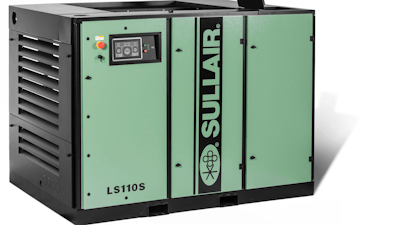 Sullair (Michigan City, IN) offers its LS Series of air compressors with features that include:
A new, patent-pending air end design that combines proven bearing technology with a new, larger rotor profile that improves energy efficiency.
Internal porting, which means fewer components are needed.
A patent-pending package design in which all components are specially designed, engineered and manufactured.
Electronic Spiral Valve technology that improves efficiency by matching compressor supply to demand.
A 10" touch screen controller.
AirLinx remote monitoring capabilities.
Availability with 125-150 hp (90 to 110 kW) in providing pressures from 110 to 175 PSI.