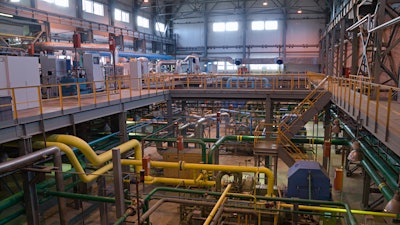 This second of a four-part series on air compressor purchasing tips provides advice from experts on which reliability-related features should be examined when making air compressor purchasing decisions.
What types of reliability-related features should buyers investigate the most before selecting a compressor?

Scott Baker, Quincy Compressors: Make sure there is a standard warranty in place with no service contract required. The published standards on the life expectancy of the bearings and pumps should also be reviewed.
Dan Leiss, Jenny Compressors: We would suggest first and foremost knowing the compressor manufacturer and where they are getting their components. Quality control seems to be highest when components are generated and assembled under one roof. Also, look for more metal than plastic with the compressor's construction. Metal shields are going to protect better than plastic.
Bear in mind that all compressors will require ongoing service to operate at full potential, and some manufacturers build in features that make them easier to service. Consider the location of common-wear parts and see which compressors have been designed to make their replacement as simple as possible.
Lane Hawkinson, Rogers Machinery Company: The majority of compressor trouble has to do with the operating environment. High temp, high dust, high humidity, direct sun and a lack of cooling air or poor cooling water quality make for poor reliability.
Also, a lack of receivers (compressed air storage) in a system can lead to rapid cycling of the compressor, which affects reliability. The best reliability feature is purchasing a high-quality compressor from a reputable manufacturer and having 100 percent back up. Plants don't operate without compressed air, but it's amazing how many don't have any back up compressors.

William Milligan, Chicago Pneumatic
William Milligan, Chicago Pneumatic: When in the market for a piston compressor, you will want to investigate the pump construction, ensuring the components are high-quality and the bearings can be easily replaced. Having access to an oil sight glass on the pump will allow for easy inspection of the oil level, the most important element of compressor reliability.
For rotary screw compressors, it is beneficial to have maintenance warning lights on the compressor that offer interval warnings or alerts if a fault is found. It is also crucial that all consumable parts are easily accessible for easy maintenance.

Chad Larabee, Ingersoll Rand
Chad Larrabee, Ingersoll Rand: As a bicyclist, I know the bike's value and reliability is about the sum of its components. I look at the derailleur, the brakes, the crank, and the construction of the frame. Similarly, there are key components on a compressor to review.
The heart of the compressor is the compression module or airend. Consider design life, service features, and materials of construction to determine its reliability. For oil-free compressors, I like to look at the durability of the rotor coating and whether the core material is stainless or carbon since the airend is like a terrarium, moisture and oxygen rich, which is a perfect environment for turning metal to rust.
A robust, condition-based maintenance program helps with minimizing unplanned downtime as well. Work with your manufacturer on planned and condition-based maintenance diagnostics to insure uptime.
Paul Humphreys, Atlas Copco: Selecting the right type and size of compressor for application needs will help ensure that the right technology is used to match demand. Understanding the compressor units of measurement is also critical when it comes sizing your compressor, calculating energy costs and everything in between. It's always recommended that customers first consult a compressed air expert to learn about the different technologies available and warranties associated with each piece of equipment.