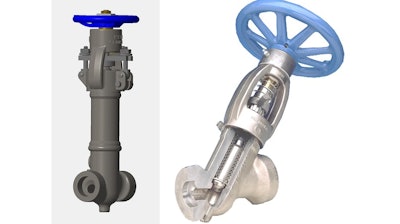 Conval (Enfield, CT) offers a full line of U.S.-made, low- and high-pressure Clampseal bellows seal valves for the world's most demanding industrial applications.
Low- pressure ASME Class 150-900 Clampseal bellows seal valves are ideal for demanding toxic, corrosive and caustic applications and regulation of severe service process control where leakage to the environment is not an option. They feature low weight and seismic profile; leak-proof integrity; in-line servicing; high cycle bellows; high flow capacity; and no fugitive emissions.

High-pressure Clampseal single and double bellows seal valves for up to ASME Class 2500 are ideal for applications where packed valves may not reliably contain light gases or hazardous system fluids due to leakage in the stem/packing seal area or stuffing box wall/packing seal area. The valves allow for zero emissions and meet all requirements of MSS SP-117. Options include electric, pneumatic and hydraulic actuators; open, closed or both locking devices; single or dual limit switches; position indicator; and leak-off port. N-stamp valves are also available.

www.conval.com; 860-749-0761