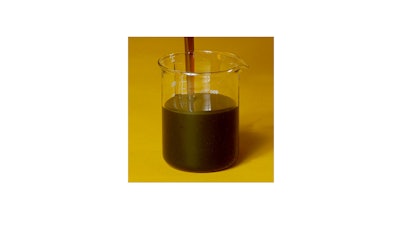 Paratherm (King of Prussia, PA) manufactures 3 system-cleaning products for use in thermal-fluid heaters and systems. These products fit into two product types based on how they are used:
Additive Cleaners: Add as 5-10% of your system volume to clean a system while it runs.
Off-line Cleaners:

Shut system down. Drain fluid, fill with cleaner, circulate, drain, flush and recharge. Resume operation.
Sludge forms as a result of oxidation, when air contacts hot fluid. Sludge is usually loose, non-adherent to the interior metal of the system, and gathers in dead spots where flow is slow or non-turbulent, or in the expansion tank or fluid reservoir. Sludge, being a product of oxidation, is acidic.
Fouling formation is related to heating, and thus is usually found adhered to heated surfaces, and most often is related to overheating. Fouling, also called coking, is carbonous. Fouling can follow from sludging, when the acidic sludge deteriorates more readily than healthy fluid in contact with the heated surfaces.
If you have visible evidence of either fouling or sludge, or deteriorating performance of the equipment that you can't explain otherwise, you may need a system cleaner. Paratherm offers the following products:
www.paratherm.com; 610-756-7458