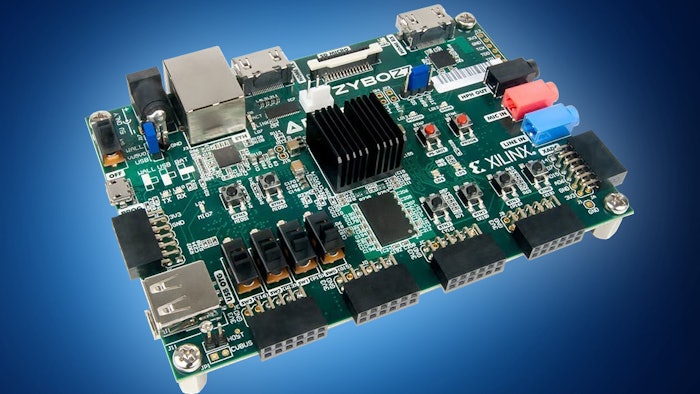 Mouser Electronics
Mouser Electronics (Mansfield, TX) is now stocking the Zybo Z7 development boards from Digilent. The latest addition to the Zybo platform of Arm/FPGA system-on-chips (SoCs), the Zybo Z7 is a ready-to-use, entry-level embedded software and digital circuit development platform for a range of applications, including robotics, embedded architecture, medical equipment, server-backhaul products, advanced driver assistance systems (ADAS), and embedded vision. Additional features include:
Boards based on the Xilinx Z-7010 (Zybo Z7-10 board) and Z-7020 (Zybo Z7-20) All-Programmable SoCs (AP SoCs) architecture, which integrates a dual-core Arm Cortex-A9 processor with Xilinx 7-series FPGA logic.
The Zybo Z7-20 has an internal FPGA that is 3x larger than the Z7-10, and a heat sink for the additional FPGA resources.
Both boards include a voucher for the SDSoC toolset, which provides a familiar embedded C/C++ application development experience.
Both the Zybo Z7-10 and Z7-20 also come equipped with a set of multimedia and connectivity peripherals to create a single-board computer for embedded circuit development.
The video-capable feature set includes a MIPI CSI-2 compatible Pcam connector, HDMI input, HDMI output and high DDR3L bandwidth.
6 Digilent Pmod connectors enable access to Digilent's catalog of Pmod peripheral modules, which include motor controllers, displays, and sensors.
For more information, visit https://www.mouser.com/digilent-zybo-z7-zynq-7000-soc/.