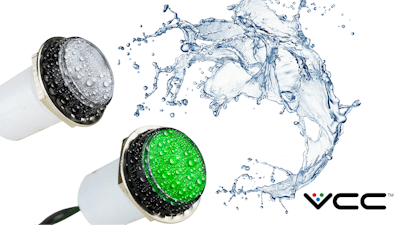 VCC
VCC (San Diego, CA) has launched a watertight IP67-rated LED panel mount indicator with a unique optical low-profile lens. The PML50 Series panel mount indicator with FlexVolt technology features:
A built-in ultra-bright LED that provides uniform illumination

.

Full brightness achieved in microseconds - even in daylight.

The ability to be used with voltages ranging from 5V to 28V DC circuits.

An operating life of 100K hours.

Applicability in equipment exposed to harsh environments, including vibration, extreme temperatures, humidity, shock (dirty power), dust/dirt, fluids, and more.

Availability in single colors: red, green, white, blue and yellow, and bi-color versions: red/green with a clear lens for increased contrast between on and off.

A panel hole diameter of 0.688" (17.5mm).
For more information, visit https://vcclite.com/new-pml50-series/.