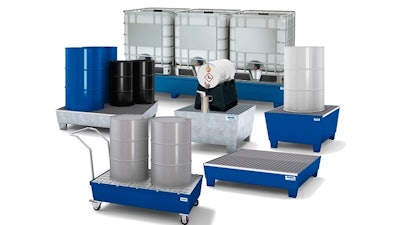 DENIOS (Louisville, KY) has redesigned its complete assortment of Spill Containment Pallets and Carts to feature a new, compact, space-saving design. Available in painted steel, or galvanized steel, they catch spills, drips, and leaks to keep work areas neat, clean and safe. Specifically:
The sumps have the capacity to meet EPA, OSHA, NFPC

and other regulations, and are 100% tested and guaranteed to be leak-free.

Solidly welded from high-quality steel for durability and security, they include an easily removable hot-dip galvanized plank (also available in stainless steel).

Square or inline designs are available to hold between 1 and 8 drums or 1 to 3 IBC. Each includes feet for easy forklift accessibility and transportation; a single or 2-drum version is also available as a Spill Cart.

Manufactured in the USA, with industry leading lead times.

DENIOS Spill Containment Pallets and Carts are ideal for the storage

of water-polluting, flammable substances, such as oils and lacquers.
www.DENIOS-us.com, 877-388-0187