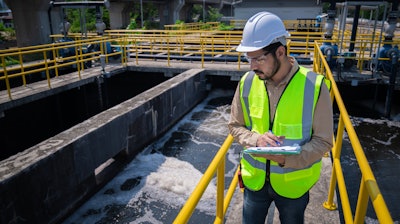 Sabo Industrial Corp.
Sabo Industrial Corp. (Newburgh, NY) announced its automated wastewater treatment systems that reduce the cost of treatment, labor and disposal.
An automated wastewater treatment system can:
Eliminate need to monitor equipment in person
Separate suspended solids, emulsified oil and heavy metals
Encapsulate the contaminants
Produce an easily de-waterable sludge in minutes
Separate water with a de-watering table or bag filter
These systems are available as:
Manual batch processors
Semi-automatic
Automatic
Closed loop system for water reuse
Sabo Industrial uses a bentonite clay in a line of wastewater treatment chemicals called ClearTreat. This line of wastewater treatment chemicals is formulated to break oil and water emulsion, provide heavy metals removal and promote flocculation, agglomeration and suspended solids removal.