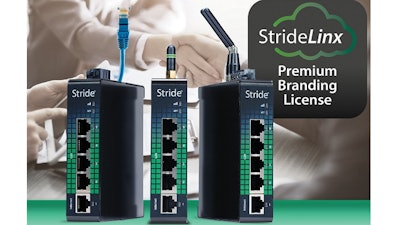 The new StrideLinx Premium Branding License from AutomationDirect (Cumming, GA) allows the creation of a custom company IoT platform with a user-specified domain name, the company logo on the login screen and customized support and contact information. StrideLinx provides secure access over the "industrial internet" to remotely connect, monitor and troubleshoot multiple field devices. StrideLinx easily and affordably cloud enables any Ethernet-ready device. Specifically:
The StrideLinx platform consists of three types of VPN routers and two antenna sets (Wifi and cellular).
5GB monthly data bandwidth is included free and subscription options include additional bandwidth (up to 50GB) and cloud data logging.
The StrideLinx platform allows unlimited users, and unlimited concurrent client and mobile connections.
www.automationdirect.com/Stride-StrideLinx; 800-633-0405