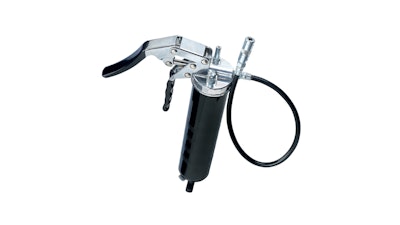 The LX-1152 from Lumax (Fort Mill, SC) is a heavy-duty deluxe pistol grease gun with 18 in. flex hose. Made from heavy-duty LuCast, cast-alloy head with heavier and reinforced wall thickness for extra strength, it has a chrome plated finish handle for maximum protection against corrosion. Additionally:
It offers a handy 3-way loading-fill with standard car-tridge, suction or bulk fill.

The LX-1152 develops up to 7,000 PSI (480 bar) operating pressure.

This grease gun has an output of 4 oz. of grease per 100 strokes.

The LX-1152 comes with an 18 in. flex hose (LX-1203), four hardened jaws hydraulic coupler with ball check and non-drip cap (LX-1400).

Lumax grease guns meet the demanding requirements for day-to-day rugged use for professional industrial, construction, automotive and farm applications.
www.lumax.com; 844-660-6876