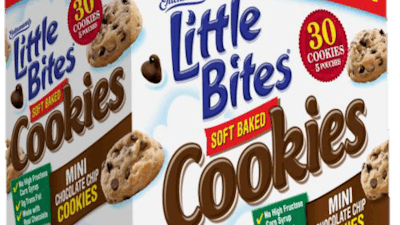 Food and Drug Administration (FDA)
Bimbo Bakeries has issued a voluntary recall of Entenmann's Little Bites Cookies due to the potential presence of visible, blue plastic pieces.
The recall specifically targets the five-pack of soft-backed mini chocolate chip cookies.
An error in the packaging process has caused the plastic pieces to be found in the individual packaging pouch and not baked into the cookies. Still, they pose a choking hazard.
The issue was isolated to this production line, so no other brands are affected by the recall.
Bimbo announced the recall after receiving consumer complaints, but no injuries have been reported.
The products can be identified by their "Best By" dates of August 31, 2019 and September 7, 2019; UPC code (7203002378); or lot code (1350).
The cookies have been distributed to 36 different states, including AL, AR, CT, DC, DE, FL, GA, IA, IL, IN, KS, KY, LA, MA, MD, ME, MI, MN, MO, MS, NC, ND, NE, NH, NJ, NY, OH, OK, PA, RI, SC, SD, TN, VA, VT, WI, WV.