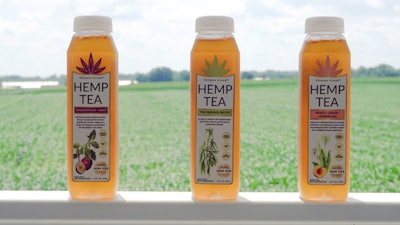 Kreider Farms
Based in Manheim, PA, Kreider Farms is a known producer of milk, ice cream and premium eggs. This week, the company launched a new line of hemp iced tea drinks, Chiques Creek Hemp Tea.
The specialty beverage products are available in select regional retail outlets and online.
Kreider is located in Lancaster County, which has a long history of hemp production.
Chiques Creek Hemp Tea does not contain CBD or THC, as the FDA has not approved these additives for food and beverage use yet.
As regulations change, Kreider Farms may explore recipe alterations in the future.
"Since the recent passing of the Farm Bill, we are excited to see hemp being reintroduced to agriculture," said Khalee Kreider, Kreider Farms.
The three flavors are made from a blend of hemp seed oil and natural flavoring with no artificial sweeteners:
Original Recipe showcases the earthy flavor of hemp.
Passionfruit + Mint is a tropical blend.
Peach + Lemon + Dandelion is a complex blend of earthy, fruity and tastefully bitter notes.