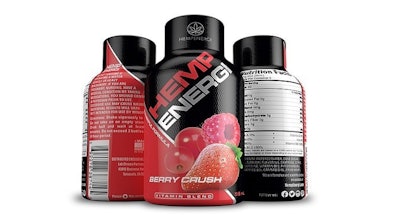 (PRNewswire) Sisu, Inc a South Dakota-based company doing business as Hemp Energi recently launched a line of two-ounce energy shots that the company says can provide a boost similar to 5 Hour Energy, but with a unique formula containing hemp oil.
The Berry Crush Flavored drink contains eight nutrients described as coming from all-natural ingredients. In addition to the hemp oil, the shot also contains daily recommended amounts of B12, B3, B5 and B6. Hemp Energi has no artificial colors, sweeteners or flavors. It is currently available in over 1,000 outlets, and Sisu is in talks with national distributors, big box retail, large brands for co-label, and private label opportunities.
Hemp Energi is a privately held corporation with 20,000,000 shares authorized.