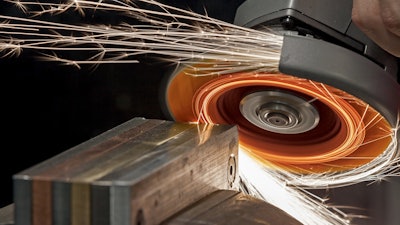 The new PLANTEX CERAMIC discs from CS Unitec (Norwalk, CT) have been specifically developed for grinding all metals including stainless steel, steel, aluminum, titanium, bronze and special alloys. The discs' advanced high-performance ceramic grain improves grinding performance for maximum removal, saving time and extending service life, says the company. The unique abrasive structure reduces heat when grinding, preventing heat discoloration on the workpiece. PLANTEX CERAMIC discs feature:
A backing plate made of natural hemp with a polypropylene binder. Safer working conditions result from the elimination of fiberglass, mineral fibers and epoxy resin in the backing plate.
This hemp fiber high-tech compound also provides high insulating, vibration damping and noise-reducing properties.
The disc automatically reduces in size during grinding, allowing 100 percent utilization of the abrasive fabric. These environmentally-friendly discs minimize pollution from production to waste disposal.
www.csunitec.com; 800-700-5919