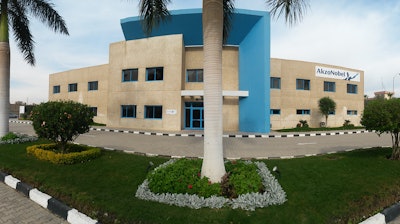 AzkoNobel, press release
AkzoNobel has raised its stake in Akzo Nobel Powder Coatings SAE in Egypt from 60 percent to 100 percent. The transaction forms part of the company's accelerated growth strategy for Egypt and the wider North Africa region.
As well as operating a state-of-the-art powder coatings plant in Cairo, Akzo Nobel Powder Coatings SAE also has a 90 percent stake in the trading firm Akzo Nobel Powder Coatings Trading SAE. Financial details of the deal were not disclosed.
"This is an important step in our strategy to enhance our presence in the region," said Conrad Keijzer, AkzoNobel's Executive Committee Member responsible for Performance Coatings. We are now taking our operations in Egypt and North Africa to the next level and consolidating our credentials as a leader in the powder coating sector."
Added Peter Tomlinson, Managing Director of AkzoNobel Middle East & Performance Coatings Africa: "The full acquisition of Akzo Nobel Powder Coatings SAE will enable us to further strengthen our service levels and meet the growing demands of our customers. The advanced manufacturing plant will also add value to our operations, ensuring that we deliver cutting-edge and high quality solutions for our customers."
According to industry reports, the global powder coatings market is expected to grow at a compound annual growth rate (CAGR) of 6.8 percent from 2016 to 2020, to over $11 billion in value. Both volume and revenues are projected to grow, led by robust demand from the packaging, automotive, consumer goods, general industry, architectural and other sectors. The Middle East & Africa region continues to be a strong market for the industry.
AkzoNobel is in the process of strengthening its footprint across the Middle East and North Africa region, having recently announced new joint ventures in UAE, Qatar and Oman, and recording double digit growth in the region. The company also opened a new powder coatings plant to add to the $10 million facility opened in Dubai in 2014.
Powder coatings are widely used in the buildings and infrastructure sector, as well as for pipelines in the oil and gas industry. The company's powder products can also be found on Dubai Metro stations and at Smart Village in Egypt.