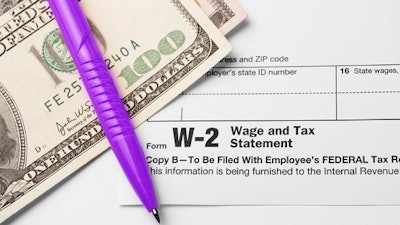 Earlier this week, I came across another iteration of the same story as Pennsylvania's governor moved forward with increasing wages for state workers from $7.25 to $10.15 per hour. I've always wondered what kind of impacts these increases have on the private sector and, though PA Gov. Tom Wolf is not alone in his efforts – see also, recently, Portland, New York and San Francisco's city-wide bumps – he is special in that he's overseeing a strong manufacturing economy.
According to NAM, manufacturing accounts for 12 percent of the state's output, and nearly 13,000 manufacturing firms call PA home. Only six states boast higher output.
As we continue to see action on wage minimums over the next few years, it's evident that there will be consequences outside of the reach of this kind of legislation. But what does it mean for us? Just as with any sweeping legislative changes, manufacturing, even as an outlier, will feel the impacts in one way or another.
When I started digging for current information on manufacturing wage rates, if only to establish a baseline, I came across a Washington Post article that attempts to answer the question at the heart of it all: "What Wages Really Look Like in American Manufacturing." The article begins by fact checking a claim by Democratic presidential candidate Bernie Sanders made during a Michigan debate about how global trade pacts like NAFTA and the TPP have cost the manufacturing industry countless jobs and significantly depressed wages. Sanders went on to articulate that "new jobs in manufacturing, in some cases today, pay 50 percent less than they did 20 years ago."
The author seeks to discredit this claim by pointing to inflation-adjusted data from the Bureau of Labor Statistics suggesting, instead, that wages are up six percent over the last 20 years. And yet, "By all accounts, the American manufacturing industry isn't as healthy as it was in 1996 and economists attribute those declines to trade agreements — specifically with China and Mexico — and the hits American firms took during the Great Recession."
As a result, it's likely that many newer entries into the manufacturing workforce are facing spotty futures or, perhaps, benefit and salary gaps. According to EMSI, a CareerBuilder company, from 2009 to 2013, nearly 1 in 5 jobs added in the U.S. were temporary positions. "And an estimated 22 percent of all temp jobs in 2013 were staffed by workers in production occupations — jobs that are overwhelmingly concentrated in manufacturing." So while Bernie isn't exactly correct in his claims, he isn't exactly wrong either.
But back to the minimum wage hikes.
This week we covered another story – this time out of New York – where small business owners rallied against the proposal by NY Gov. Andrew Cuomo to implement a $15 minimum state wage, which would be the highest state minimum in the country. While opponents say businesses will be crippled, Cuomo says there is "no credible evidence" that will be the case. The United States Department of Labor supports this claim, saying "Since 1938, the federal minimum wage has been increased 22 times. For more than 75 years, real GDP per capita has steadily increased, even when the minimum wage has been raised."
But what about collateral damage outside of these areas, and its impact on the broader manufacturing sector? Will lower wage production workers see their employers fall in lockstep to keep pace with their local markets? Or will the private sector simply bide its time until a federal requirement comes into play (if, in fact, it does)?
Forbes reported in September that a $15 federal minimum wage would hit manufacturing hard, threatening millions of jobs. The article spends a lot of time hand-wringing over the fear of U.S. plants offshoring, but organizations like The Reshoring Institute have suggested that offshoring rates are diminishing based on companies using more of a hard numbers approach to estimating operating costs.
According to the institute, most companies make sourcing decisions based solely on price, oftentimes resulting in a 20 to 30 percent miscalculation of actual offshoring costs. As this reality began to impact the offshoring trend, rates dropped precipitously – reducing by 70 percent between 2003 and 2013. The most often cited issues that prompted companies to reshore production back to the U.S. were lead time, quality problems/rework, and the rising wage rates in other countries.
So will rising wage rates in the U.S. tip the scales in the other direction? In a blog for the New York Times, Paul Krugman suggests that raising the minimum wage doesn't make jobs scarcer, it makes them better. "Workers are not, in fact, commodities," he explains. "A bushel of soybeans doesn't care how much you paid for it; but decently paid workers tend to do a better job, not to mention being less likely to quit and require replacement, than workers paid the absolute minimum an employer can get away with. As a result, raising the minimum wage, while it makes labor more expensive, has offsetting benefits that tend to lower costs, limiting any adverse effect on jobs."
While there is something soothing about these words, I'm still not ready to say I believe them. It may take Gov. Cuomo's litmus test in New York state to see whether industry flees. And in Pennsylvania, will higher paid state workers raise the bar for the private sector? According to PA Gov. Wolf, his state worker wage sounds like a panacea for all worker ills: "An increase in the minimum wage will lead to increases in employee morale, productivity, and quality of work and decreases in turnover and the cost of training and supervision."
Can we afford to wait and see if he's right?