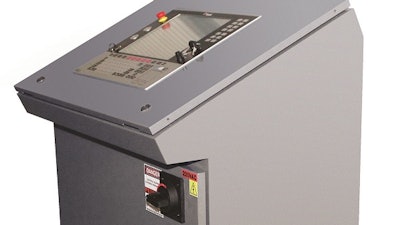 OSAI
OSAI (Chicopee, MA) has introduced ne­w CNC turnkey prewired packaged systems for the metalworking CNC plasma, laser, and milling industries. The packages feature:
Ethercat servo drives and brushless motors (230 V or 400 V) that are prewired and configured for plasma, oxy-fuel cutting systems, laser, milling machines, and routers.
Base packages of three to four axes, with options of up to eight axes.
A compact panel (15" color LED screen/keyboard/jog console).
An optional TOP5 remote pendant that includes a 6.4 resistive touchscreen, jog keys, emergency button, start, stop, reset, accessible USB port, and configurable buttons.
The new standard Ethercat protocol serves as the basis for connecting all the products in the family, enabling information to be exchanged between the various nodes and, when needed, making it possible to monitor several elements belonging to the same product family.
With the ODM (OSAI Device Manager), the integrator can manage the kinematics of the machine and AMP (Adjustable Machine Parameters). This enables the user to remotely login to the CNC to view or change any parameters related to the CNC, drives, and motors.
OSAI packages have a Windows-based front-end. This allows the end-user the flexibility of using a typical PC environment with industrial CNC reliability. The CNC includes an optional conversational package (OPENMill) to create simple to complex programs. Basic cutting, profiling, drilling, and milling can be programmed and executed with the control package.
For more information, visit http://www.osaicnc.com or call 413-598-5200.