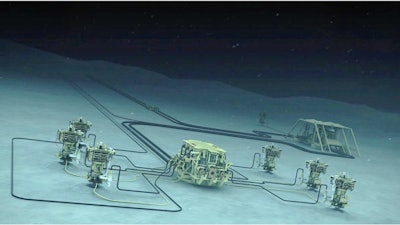 GE
Contributing to India's exploration and production (E&P) activities in the oil and gas sector, GE has signed an exclusive Memorandum of Understanding (MoU) with L&T Hydrocarbon Engineering Limited, a wholly-owned subsidiary of Larsen & Toubro (L&T).
Together, the firms will partner in the manufacture of subsea manifolds destined for future deep water projects in the Krishna-Godavari basin on the east coast of India.
The partnership brings together the manufacturing and technological excellence of two leading companies in the oil and gas space, and also marks India's entrance into local subsea equipment manufacturing.
Spread over an area of 600,000 sq.m. and with an annual capacity of 50,000 MT, L&T's modular fabrication facility in Tamil Nadu was chosen as the production site after a rigorous qualification process. The plant is equipped with advanced welding and fabrication capabilities along with a 150m jetty, making it an ideal location to manufacture advanced hardware for the seabed.
Utilizing a modular approach, GE's subsea manifolds will provide long-term reliability, safety and quality, while addressing the complexities of the subsea environment.
In addition to this MoU, L&T Infotech has also joined the GE Digital Alliance Program, with the organizations collaborating to develop innovative digital industrial solutions powered by GE's Predix operating system for the Industrial Internet.
They will work together to leverage analytics and real-time insights to enhance competitiveness and transform the way companies manage their assets and workforce.