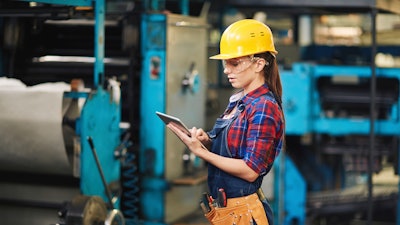 Recently, Marlowe Dayley, Microsoft's OEM Hardware Marketing Lead offered some perspective on the growing use of mobile devices on the plant floor.
Jeff Reinke, IEN editorial director: Looking at a phone, tablet, etc. that will be used on the plant floor, what features are being most commonly requested?
Marlowe Dayley, Microsoft: The most common thing requested is durability or ruggedness. If a device is damaged, it impacts production and so many factories look for durable devices that can take the day to day.
IP certifications that cover water and dust are frequently used (IP65 is common) as well as MIL-STD 810, commonly known as MilSpec which covers everything from water to shock and temperature are common requests for the factory floor. Some other interesting requests we are seeing from customers include:
Security features of all sorts – TPM chips and Bitlocker, fingerprint readers or other biometric sensors.
Pen capabilities - the ability to quickly jot down notes or integrate the pen into live processes.
3D imaging capabilities (MobileDemand has a tablet that uses the RealSense camera) to do quick imaging and sizing of parts and boxes.
Zone One and Class One certifications - for oil and gas these are vital.  Aegex is building devices that meet these stringent requirements for highly volatile environments.
Depending on the purpose (in factory or remote sights) – mobile broadband is becoming more common. Many companies will go with Wifi if possible to control the traffic and for security.
Bar code readers of all sorts.
JR: From an ergonomics perspective, what do you feel have been the most important advancements for personal devices in the last 12-18 months?
MD: Devices are getting lighter and more capable. I see rugged devices that don't look like you need a separate backpack to carry it around.  Overall, I think the capabilities of 2-in-1 devices are amazing. Integrating touch, pen and tablet functionality into a PC that can be a tablet or PC (when you add the keyboard either through flipping or attaching) is a huge jump from just a few years ago. The designs today are both attractive and very functional.
JR: What is the average lifespan of a mobile device on the plant floor?
MD: It all depends on the device being used and the environment.
JR: What do you think will be the most significant advances in industrial computing hardware over the next 2-3 years?
MD: I think you will see the world of industrial computing change radically. Device types will proliferate immensely. Industrial computing is not going to be with just a PC or tablet, though. The Internet of Things means every aspect of the industrial world will change.
The ability for sensors to monitor and track every aspect of the industrial environment, and send it through a gateway to a huge computing platform that can use big data analytics to improve performance will make factories even more productive, and less likely to fail unexpectedly.
Innovation will happen at every level – the sensors, data transport and in the cloud with new intelligent tools that think about everything. Predictive analytics, model optimization and machine learning will tune factory performance and reduce risk.