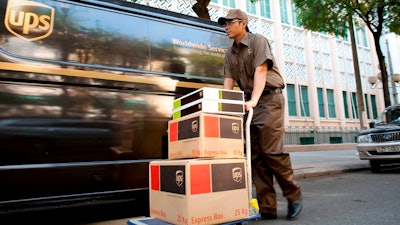 UPS
Roughly two months after rival FedEx announced a 4.9 percent shipping rate increase that will begin Jan. 6, United Parcel Services followed suit on Nov. 18, announcing an identical rate hike that will start Dec. 29.
Stating that the rate increase will support ongoing expansion and capability enhancements, UPS said the 4.9 percent average upcharge includes its Ground, Air and International services.
The following UPS service changes become effective Dec. 29:
A rebill fee will be assessed for each request to change the billing account for a shipment.
A Prohibited Item fee will apply to packages containing prohibited articles or restricted articles not in compliance with all UPS policies and procedures and applicable laws and regulations if found in the UPS system.
Value-added services and other charges will apply to undeliverable packages returned to the shipper.
UPS reserves the right to assess a late payment fee in an amount set forth in the UPS Tariff/Terms and Conditions of Service if an invoice is not paid in full by the invoice due date.
The weight threshold for applying an additional dandling surcharge will be lowered from 70 pounds to 50 pounds actual weight for UPS Ground and UPS Air services.
The list of ZIP codes to which delivery area surcharges and extended area surcharges apply will change. See updated zip code listings below (under 2020 Preview Rates) for more information.
A processing fee will apply to each request to file a single entry under Entry Type 86 for a shipment that normally qualifies for U.S. customs clearance under a consolidated manifest.
The rates for certain value-added services and other charges will increase.
Prior to UPS and FedEx' price increase announcements, DHL said in September that its average 2020 rate is going up 5.9 percent, effective Jan. 1.