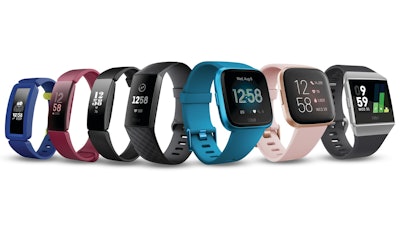 Fitbit
Wearable activity device maker Fitbit announced Wednesday that it will move production of all its trackers and smartwatches outside of China beginning in January 2020, in a move to avoid Chinese tariffs.
The San Francisco-based company said that as of January, it expects those products will no longer be of Chinese origin and therefore not subject to Section 301 tariffs.
"In 2018, in response to the ongoing threat of tariffs, we began exploring potential alternatives to China. As a result of these explorations, we have made changes to our supply chain and manufacturing operations and have additional changes underway," Fitbit CFO Ron Kisling said in a Wednesday press release.
In June, Fitbit joined a group of U.S.-based companies that filed letters opposing President Donald Trump's plan for increased U.S. tariffs on Chinese goods, with Fitbit saying the tariffs would result in a competitive advantage for Chinese device makers in the U.S. market.
Fitbit didn't provide details on where new manufacturing locations would be, stating Wednesday that it would provide more details of the financial impacts of the company's tariff mitigation efforts in its upcoming third quarter earnings call.