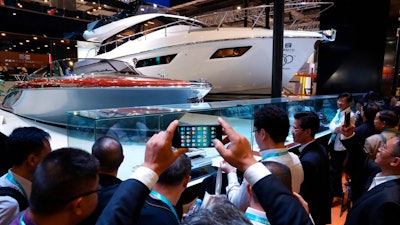 AP Photo/Ng Han Guan
SHANGHAI (AP) — Visitors to a vast trade fair meant to rebrand China as a welcoming import market could sip Moroccan wine, ogle Italian yachts and watch a Japanese industrial robot play ping-pong.
The communist government's marketing extravaganza involving 3,600 companies from 152 countries showcases the promise and challenges of China's growing, state-dominated and intensely competitive markets.
At a stand for German robot maker Jungheinrich AG, spectators watched a bright yellow automated forklift shift bulky cartons. A manager, Christian Wurzinger, said China accounts for one-third of its global sales but the Hamburg company wants to expand beyond factories and logistics into health and other industries.
The expo gives "very good access to Chinese companies, especially outside big cities," said Wurzinger. "We are lucky to be here."
Still, he said Jungheinrich already faces Chinese competition: "There are plenty of local Chinese manufacturers with pretty good technology, to be honest."
The China International Import Expo is part of efforts to develop China-centered world trading networks while resisting pressure to roll back industry plans that Washington, Europe, Japan and other governments say violate its market-opening obligations.
Eager to dispel complaints they abuse the global trading system, China's leaders are touting its growing demand for foreign food, luxury brands, entertainment and other goods.
China already is the No. 1 market for most of its Asian neighbors. But a big share of those imports is iron ore, computer chips and other materials that are turned into smartphones, toys and other goods for export.
That is changing as communist leaders promote consumer spending as part of efforts to develop self-sustaining economic growth and reduce reliance on trade and investment. That holds out the promise of a market of 1.4 billion consumers, even if incomes are a fraction of those in developed countries.
On the expo's opening day, President Xi Jinping promised Monday to boost imports, cut costs for importers, protect patents and improve consumer spending power. But he did not address U.S. and European complaints about technology policy that prompted President Donald Trump to impose penalty tariffs of up to 25 percent on $250 billion of Chinese goods.
Importers into China must contend with a thicket of restrictions and, in autos and other industries, pressure to help develop potential Chinese competitors as the price of market access.
Tarvand Saffron, an Iranian exporter of saffron, was invited to the expo by a Chinese state-owned company. But export manager Amir Reza Jalalian said food regulations bar sales of its product in China.
"Maybe in the future we can import saffron," Jalalian said, as visitors crowded around the company's stand to smell the crimson spice.
Business groups complain that while Beijing increases imports to serve its factories and consumers, foreign companies are being squeezed out of technology and other promising industries.
Exhibitors at the expo ranged from General Motors and Lego toys to Brazilian shoemakers, a Korean dumpling brand and Uganda's National Enterprise Corp., an exporter of coffee and honey.
Visitors crowded around a stand for Japan's Omron Corp. to watch an industrial robot hit a ping-pong ball back and forth with a human opponent.
Global auto, aerospace and technology brands already are well known in China, suggesting many were at the expo not to sell but to nurture relations with the Communist Party by showing support for Xi's trade initiative.
"For the bulk of China's imports, these expos don't make much difference," said Gareth Leather of Capital Economics. "For companies from smaller, developing countries, probably at the margins they do make a bit of a difference."
At a stand promoting Polish poultry, visitors lined up for bowls of chicken in cream sauce made by cooks led by celebrity chef Artur Moroz.
Nearby, visitors sipped red and white wines from La Ferme Rouge, a winery in Morocco in North Africa. It produces exclusive batches under the labels of luxury hotels in Morocco and wants to market that service to high-end Chinese hotels and restaurants.
"It's a big opportunity for us to enter this part of the market," said Rita Sourelah, a manager.
The expo also highlighted the blurring of lines as Chinese companies acquire U.S. and European brands and technology to sell at home.
Weichai Group, a Chinese shipbuilder, displayed a luxury cabin cruiser made by Italy's Ferretti, in which Weichai bought a 75 percent stake in 2012.
Other hybrid importers included Sweden's Volvo Cars, a unit of Chinese automaker Geely Holding; General Electric Appliances, acquired by China's Haier Group in 2016, and California-based solar supplier MiaSole, part of Beijing-based Hanergy Group.