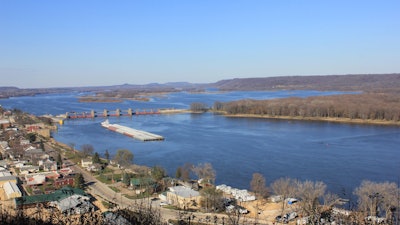 BATON ROUGE, La. (AP) — A plan to deepen the main channel of the Mississippi River to 50 feet (15 meters) from a Louisiana city to the Gulf of Mexico has won a critical endorsement from the Army Corps of Engineers.
James Dalton, the corp's civil works director, concluded the increase from Baton Rouge to the Gulf will result in annual benefits of upward of $100 million to the nation's economy, compared to average annual costs of $17.7 million. Dalton signed the recommendation Aug. 3, news outlets reported Monday.
The more than $200 million project will deepen the main shipping channel an extra five feet (1.5 meters) where needed along about 250 miles (400 kilometers) of the river as it passes through the Plaquemines Port, Harbor and Terminal District; Port of New Orleans; Port of South Louisiana; and Port of Greater Baton Rouge. Those ports handle more than 500 million tons of cargo a year, including 60 percent of the nation's grain.
The project has gained momentum in recent years because of the multibillion-dollar expansion of the Panama Canal, which opened in 2016.The dredging will allow "New Panamax" vessels that are built larger to use the widened Panama Canal and Post Panamax" vessels that may be too large for the canal to reach Baton Rouge as long as their superstructure fits below the Crescent City Connection bridge in New Orleans.
It'll also reduce the practice of loading some ships with less cargo weight than their size allows, or unloading cargo from ships before they enter the river's mouth. Officials also hope the deeper dredging will increase the intervals between required maintenance dredging.
A corps spokesman told NOLA.com/The Times-Picayune the state's share of the cost could be as much as $119.6 million, including $39.4 million of the actual deepening project construction costs. The other $80.2 million attributed to the state is the cost of relocating pipelines and other utilities that run through the river. Both the corps and state estimate that some of the relocation cost will be picked up by the utility owners.
Rodney Mallett, a state Department of Transportation and Development spokesman, said the state expects to use a variety of sources of money to pay for its share of the project, including the state's annual capital outlay budget.
The final proposal must be approved by the White House Office of Management and Budget and Congress. Congress must also include funding for the project in its fiscal year 2019 budget and money for the increased cost of annual dredging in future annual budgets.