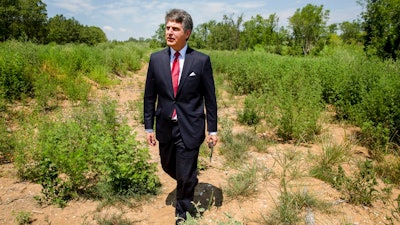 AP Photo/Karen E. Segrave
ARKADELPHIA, Ark. (AP) — A Chinese company's announcement two years ago that it would spend more than $1 billion and hire hundreds of workers for a paper mill on the outskirts of this rural college town was seen as a much-needed shot in the arm for the region's economy.
A web video promoting Arkadelphia — "It's a great place to call home!" — continues to tout the Sun Paper project and its potential to generate jobs and boost development. But optimism has been giving way to concern in recent months amid President Donald Trump's escalating trade dispute with China.
The threat of a full-blown trade war has delayed the project further and prompted the state's governor to send his top economic development official to China to make sure it stays on track. It also has caused other Chinese companies considering investing in Arkansas to put their plans on hold.
"It's like a dark cloud hanging over the future of the project," Stephen Bell, the president and chief executive officer of the Arkadelphia Area Chamber of Commerce. "Right now, the clouds are off on the horizon. But I think no one knows where the trade situation is going right now."
The uncertainty in Arkansas, where voters overwhelmingly supported Trump in the 2016 president election, highlights how U.S. states are trying to ease the sting of the president's threatened trade war by appealing directly to Chinese companies.
Those companies invested $29 billion in the U.S. last year, virtually all of which was related to corporate mergers and acquisitions, according to the research firm Rhodium Group. While that was down from a record $46 billion in 2016, those investments remain crucial for local economies.
Trump's trade dispute has squeezed U.S. states and communities in at least two ways: It has slowed direct investment, as in Arkansas, and the retaliatory tariffs imposed by other countries have made it harder for local farmers and manufacturers to sell abroad.
Political leaders from both parties have objected. Governors from Nevada, Colorado, Massachusetts and North Carolina, for example, protested tariffs on imported solar-energy components, saying it would cost tens of thousands of U.S. jobs. Trump went forward with those tariffs, anyway.
In Arkansas alone, retaliatory tariffs from China, the European Union, Mexico and Canada threaten $339 million in exports, according to the U.S. Chamber of Commerce.
The tariffs Trump imposed on China were estimated to add $150 million to the original $1.8 billion price tag of the Sun Paper plant in Arkadelphia, prompting the company to delay its plans.
State and local officials have been trying to reassure Sun Paper, with Gov. Asa Hutchinson sending his top economic development adviser to China. The governor, a Republican, says the Trump administration has assured him it will work with them on tariff exemptions for the facility.
State and local officials say they remain optimistic about the paper mill, but the governor says the trade fight isn't good for luring new industry.
"It's obvious that with uncertainty, businesses hesitate to invest in new projects. That's whether you're a United States businessman or whether you're a China investor," the governor said.
Arkadelphia, about an hour's drive southwest of Little Rock, and the state have a lot riding on the plant, which — if built — will produce liner board for cardboard boxes.
A state university and Baptist college have been the main economic drivers in the town of less than 11,000 people, which is still recovering from a devastating tornado that wiped out much of the downtown 20 years ago.
The population has dipped over the past decade despite the presence of the two colleges, and federal labor statistics show the county's unemployment rate remains slightly above the state average. Clark County voters approved a half-cent sales tax increase in 2007 to raise money for luring new businesses, a step that appeared to pay off when Sun Paper announced its plans.
The paper mill would be one of the largest economic deals in the state's history, so the state and local governments are working hard to salvage it and the investments in it they've already made.
They are providing $10 million in incentives to buy 900 acres about five miles south of Arkadelphia and adding a rail spur to service the plant. The state also is providing $12.5 million to prepare the site and buy equipment, and up to $3 million to train the workforce.
Officials expect the mill to employ 2,000 people during its construction and create an additional 1,000 jobs in the timber industry. The facility, once up and running, is expected to receive as many as 500 truckloads of timber per day.
"Anything like a new pulp mill is seen as good news. We need more markets," said Pete Prutzman, president of Kingwood Forestry Services in Arkadelphia, which manages hundreds of thousands of acres of timberland.
Supporters of the Sun Paper project say the mill is the type of deal Trump should like, with a foreign company investing in the U.S. and hiring hundreds of American workers.
It's one of several Chinese-backed deals Arkansas has landed in recent years, but efforts to woo more to the state have been jeopardized by the trade fight. The state's top economic development official said other Chinese companies considering projects in Arkansas have remained on the sideline as the trade battle rages.
"It came up in every conversation I had," said Mike Preston, the head of the state's economic development commission. "The prospects especially who were looking to do investments in the U.S. have kind of said, 'Well, we appreciate your visit and we're interested, but we need to wait and see how this all shakes out before we move forward with doing our investment.'"
Sun Paper said it remains committed to the Arkadelphia project, but said it would have moved much faster without the trade friction.
The uncertainty has added to the skepticism some locals say they already had about the plans. Bill Abernathy, a reforestation adviser who works in neighboring Bluff City, said the promise of that many jobs and that big of an investment always seemed too good to be true.
"I'll believe it when I see steel coming up," he said.