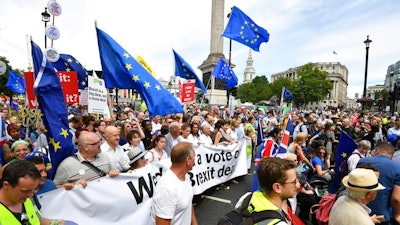 John Stillwell/PA via AP
LONDON (AP) — Investment in U.K. auto production has almost halved in the last year due to worries over the country's exit from the European Union, an industry association said Tuesday, in the latest warning that uncertainty over Brexit is hurting the economy.
The Society of Motor Manufacturers and Traders says investment in new models and facilities fell during the first half of 2018 to 347 million pounds ($460 million) from 647 million pounds during the same period a year earlier.
Chief Executive Mike Hawes said the British government's insistence that the U.K. will leave the EU's tariff-free single market and customs union "goes directly against the interests of the U.K. automotive sector, which has thrived on single market and customs union membership."
"Our message to government is that until it can demonstrate exactly how a new model for customs and trade with the EU can replicate the benefits we currently enjoy, don't change it," he said.
The industry statement follows warnings from manufacturers Airbus, Siemens and BMW that leaving the EU without a comprehensive free trade deal would hurt British businesses and cost thousands of jobs.
Uncertainty is already having an impact. A survey by law firm Baker McKenzie has found that almost half of EU businesses have cut back on their investment in Britain since the 2016 vote to leave the bloc.
The survey found that European businesses widely support a post-Brexit deal that keeps trade relations as close as possible to the existing conditions
Many U.K.-based businesses want the same thing, but the British government is split between Brexit-backing ministers who want a clean break so that Britain can strike new trade deals around the world, and those who want to keep closely aligned to the bloc, Britain's biggest trading partner.
With nine months to go until Britain leaves the EU on March 29, 2019, Prime Minister Theresa May is caught between the two factions. She says Britain will leave the EU single market and customs union while seeking "as frictionless as possible" trade with the bloc.
A paper setting out the U.K. government position on future relations, due to be published this month, has been delayed until July because the Cabinet cannot agree on a united stance.