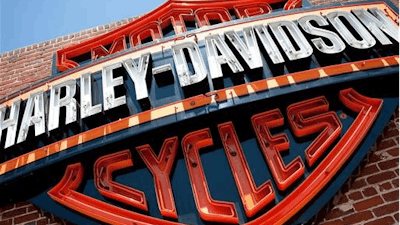 AP file
President Donald Trump says he's surprised that Harley-Davidson was first "to wave the White Flag" in a tariff dispute between the U.S. and the European Union.
The Milwaukee-based company announced Monday that it is moving production of motorcycles sold in Europe from U.S. factories to facilities overseas. The move is a consequence of retaliatory tariffs the EU is imposing on American exports in an escalating trade war with the White House. Trump first imposed tariffs on steel and aluminum from the EU and other countries.
Says Trump: "Surprised that Harley-Davidson, of all companies, would be the first to wave the White Flag. I fought hard for them and ultimately they will not pay tariffs selling into the E.U., which has hurt us badly on trade, down $151 Billion. Taxes just a Harley excuse - be patient! #MAGA."
Later the President said the company is using "Tariffs/Trade War as an excuse" to hide previously announced plans to move jobs to Asia.
"A Harley-Davidson should never be built in another country-never!" Trump tweeted. "Their employees and customers are already very angry at them. If they move, watch, it will be the beginning of the end - they surrendered, they quit! The Aura will be gone and they will be taxed like never before!"
White House press secretary Sarah Huckabee Sanders says the European Union "is trying to punish U.S. workers" by increasing tariffs on American-made products.
Sanders accused the EU of repeatedly engaging "in unfair trade practices" and that Trump is saying "enough is enough."
The EU tariffs are retaliation for duties the Trump administration is imposing on European steel and aluminum.