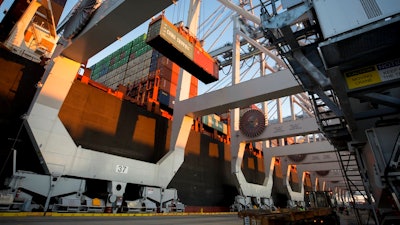 AP Photo/Stephen B. Morton, File
WASHINGTON (AP) — The Trump administration is announcing a 25 percent tariff on $50 billion worth of Chinese imports, escalating a trade dispute between the world's two largest economies.
President Donald Trump vowed anew on Friday to clamp down on what he calls China's unfair trade practices. China has said it will retaliate with $50 billion in tariffs, rattling financial markets.
In a statement Friday morning, the president said: "The United States can no longer tolerate losing our technology and intellectual property through unfair economic practices."
The Office of the U.S. Trade Representative said the tariffs will start to be collected July 6.
The U.S. trade actions against China could lead to retaliation from Beijing. Trump has already slapped tariffs on steel and aluminum imports from Canada, Mexico and European allies, and his proposed tariffs against China risk starting a trade war involving the world's two biggest economies.
Chinese foreign ministry spokesman Geng Shuang said Friday that China's response would be immediate and that Beijing would "take necessary measures to defend our legitimate rights and interests."
Geng gave no details. Beijing earlier drew up a list of $50 billion in U.S. products that would face retaliatory tariffs, including beef and soybeans, a shot at Trump's supporters in rural America.
Trump's decision on the Chinese tariffs comes in the aftermath of his summit with North Korean leader Kim Jong Un. The president has coordinated closely with China on efforts to get Pyongyang to eliminate its nuclear arsenal. But he signaled that whatever the implications, "I have to do what I have to do" to address the trade imbalance.
Administration officials have signaled support for imposing the tariffs in a dispute over allegations that Beijing steals or pressures foreign companies to hand over technology, according to officials briefed on the plans.
Wall Street has viewed the escalating trade tensions with wariness, fearful they could strangle U.S. economic growth and undermine the benefits of the tax cuts Trump signed into law last year.
"If you end up with a tariff battle, you will end up with price inflation, and you could end up with consumer debt. Those are all historic ingredients for an economic slowdown," Gary Cohn, Trump's former top economic adviser, said at an event sponsored by The Washington Post.
But Steve Bannon, Trump's former White House and campaign adviser, said the crackdown on China's trade practices was "the central part of Trump's economic nationalist message. His fundamental commitment to the 'deplorables' on the campaign trail was that he was going to bring manufacturing jobs back, particularly from Asia."
In the trade fight, Bannon said, Trump has used three major tools that "the American elites considered off the table" — namely, the use of tariffs, the technology investigation of China and penalties on Chinese telecom giant ZTE.
"That's what has gotten us to the situation today where the Chinese are actually at the table," Bannon said.
The Chinese have threatened to counterpunch. For example, officials have said they would drop agreements reached last month to buy more U.S. soybeans, natural gas and other products.
Scott Kennedy, a specialist on the Chinese economy at the Center for Strategic and International Studies, said the Chinese threat was real and helped along by recent strains exhibited between the U.S. and allies.
He said of the Chinese, "I don't think they would cower or immediately run to the negotiating table to throw themselves at the mercy of Donald Trump. They see the U.S. as isolated and the president as easily distracted."
Ron Moore, who farms 1,800 acres of corn and soybeans in Roseville, Illinois, said soybean prices have already started dropping ahead of what looks like a trade war between the two economic powerhouses.
"We have to plan for the worst-case scenario and hope for the best," said Moore, who is chairman of the American Soybean Association. "If you look back at President Trump's history, he's been wildly successful negotiating as a businessman. But it's different when you're dealing with other governments."
The U.S. and China have been holding negotiations over the trade dispute. The United States has criticized China for the aggressive tactics it uses to develop advanced technologies, including robots and electric cars, under its "Made in China 2025" program. The U.S. tariffs are designed specifically to punish China for forcing American companies to hand over technology in exchange for access to the Chinese market.
The administration is also working on proposed Chinese investment restrictions by June 30.