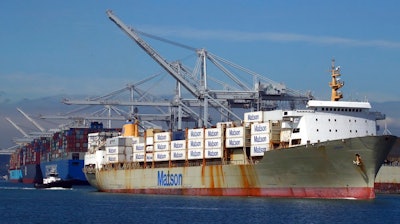 AP Photo/Ben Margot, File
New tariffs on imports from China may leave American companies with a choice — pay a higher freight bill now or pay the tariffs starting in three weeks.
It can take several weeks for ship-borne cargo from China to reach the United States — too late to beat the July 6 deadline. That could lead to more demand in the short run for air-freight services.
"The only question is how much do you want to pay," said Brandon Fried, executive director of the Airforwarders Association, "and which is better — paying that or paying the increased tariff?" Shipping by air is several times more costly than ocean shipping and the gap grows the heavier the cargo.
So far, however, some freight handlers are seeing little evidence of panic.
"We haven't seen a rush, nor have any of our customers indicated that we need to get ready" for last-minute orders, said Steen Christensen, North America CEO for German freight-arrangements provider Hellmann Worldwide Logistics. He said some of the commodities his customers buy from China won't fall under the tariffs.
President Donald Trump announced Friday that starting next month the U.S. will impose a 25 percent tariff on up to $50 billion in Chinese imports. Trump targeted Chinese industrial and agricultural machinery, aerospace parts and communications technology. Most consumer goods from China such as smartphones and TVs were left off the list.
Some freight industry observers think a rush to beat the tariff deadline is inevitable.
"There will be a surge in exports from China and from the U.S. as the date approaches," said John Manners-Bell, CEO of U.K. research firm Transport Intelligence. "We have certainly seen that in the past with these sorts of impositions of tariffs and quotas."
Manners-Bell expects "significant" rate increases and a shift of some cargo from ships to air freight in coming weeks.
Rates for container shipping rose last year as the industry tried to sail past a period of overcapacity and low freight rates. Rates for air freight have been rising in recent years as retailers meet growing demand from online shopping. Air freight is highly seasonal, with prices spiking in the fall as Christmas gifts are sent to stores and consumers.
"Fortunately we're not in the high season quite yet," said Fried, the representative of freight forwarders — they are like travel agents for companies needing to make shipping arrangements. He said it is still possible to find space in the bellies of passenger and cargo planes flying over the Pacific.
Some companies that source materials from China could eventually look for suppliers in other Asian countries with low labor costs including Vietnam, the Philippines and Bangladesh, but many will take a wait-and-see approach because it takes times to rewire supply chains, said Erik Lundh, an economist specializing in China for The Conference Board, a major business group.
It isn't clear how long the tariffs will last, or whether the U.S. and China might settle their trade fight quickly.
"There is so much volatility around this issue that in three weeks' time this could all have been for nothing," Lundh said.
___