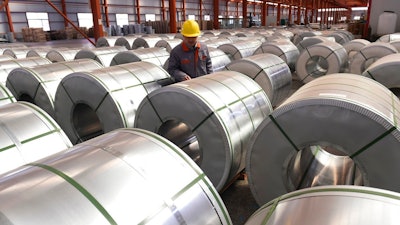 Chinatopix via AP, File
The Trump administration has so far avoided a trade fight with Europe by temporarily exempting it from hefty steel and aluminum tariffs. Yet the move also extends the uncertainty weighing on small businesses that use those materials, a much broader group than you might think.
For example, Gary Cammack, the owner of Cammack Ranch Supply in Union Center, South Dakota, is worried that he will have to raise prices on steel barbed wire that he sells to area ranchers, from $60.95 a roll to as high as $67.
And Erin Calvo-Bacci, co-owner of chocolate maker CB Stuffers, based in Swampscott, Massachusetts, is concerned that the duties will ultimately lead to higher prices for the steel tables, rolling racks and molds she buys.
Trump slapped 25 percent duties on steel and 10 percent on aluminum in March, citing excess imports that have hurt U.S. metals manufacturers and national security concerns. Yet he excluded the European Union and six other countries, easing the blow and leaving the tariffs imposed on just 30 percent of steel imports. On Monday he extended the EU's exemption for another month.
The extension comes just as U.S. officials travel to China Thursday and Friday for talks on a separate trade dispute.
Amid all the uncertainty, here are strategies small businesses can follow to ease the blow of trade fights:
— BE INFORMED
Many small businesses are simply unprepared for the disruption that could stem from a trade war with China, said Stephan Galarneau, vice president for small business at Livingston International, a consulting firm. That's also true for other trade disputes, such as President Trump's threats to withdraw from NAFTA.
"They're not ready for a worst case scenario," Galarneau said. "You want to avoid being passive about this."
Many small companies may be more likely to get caught up in trade fights than they realize. Perhaps your firm doesn't import raw materials or machinery from China, but what about your suppliers?
The U.S. has published a list of roughly 1,300 products that it has threatened to hit with tariffs as part of a trade dispute. The Trump administration argues that China forces U.S. companies to turn over technology to access China's market and has proposed slapping duties on $150 billion of Chinese imports. China has responded by threatening to levy duties on $50 billion of U.S. goods.
Benny Andrade, senior logistics manager at Dr. Bronner's, an organic soap company, said that machinery used to make plastic bottles was on the product list. The company doesn't use the machine, but he worries that the provider of its plastic bottles does, which could raise his costs.
— LOOK FOR ALTERNATIVES
Smaller companies may not have the staff to maintain global supplier networks, but they can still explore alternatives, Galarneau said. In many Asian markets, business relationships take time to cultivate.
"Do you know how long it takes to find a new, secure provider in Vietnam?" he asked. "You don't just go on the web."
Dr. Bronner's works with a consultant to maintain at least two sources for every item it imports, said Benny Andrade, senior logistics manager at the soap company. It imports 80 percent of the raw materials it uses, including coconut oil, olive oil, and hemp oil, which it gets from Canada.
Calvo-Bacci, meanwhile, has checked with her distributor to make sure they have enough inventory for her next equipment purchase. She is also looking into buying used equipment instead.
— WORK WITH (BIGGER) PARTNERS
For small companies that are part of larger supply chains, getting multinational companies to purchase the necessary raw materials can help weather trade disruptions.
That's what many auto makers did for their parts suppliers after the George W. Bush administration imposed tariffs on steel imports in 2002. The auto companies now use their purchasing power to negotiate longer-term steel prices that they then pass on to their suppliers.
David Arndt, President of Springfield, Ohio-based manufacturer Pentaflex, says he gets about 85 percent of his steel under contracts with auto and truck makers. They typically reset prices only once a quarter, so that gives him some predictability and protection.
He still has to buy about 15 percent of his steel on the open market, where prices have risen by as much as 26 percent, Arndt said.
— POLISH YOUR BRAND
When executives at Dr. Bronner's heard from its Mexican distributors that anti-American sentiment might hurt sales of its products, they took an original approach. The company made a series of short videos emphasizing the Mexican roots of the majority of its U.S. employees, Andrade said.
"You have to embrace your diversity, then you are more connected," he said.
— LOOK FOR LOOPHOLES
If a small business really needs a type of steel and can't find it anywhere in the United States, it can petition for an exemption from tariffs. The White House has set up a process for companies to request exclusions from the steel and aluminum tariffs, if they can't find what they need in the United States.
Still, Paul Nathanson, a lobbyist for the Precision Metalforming Association, says it can be daunting for small businesses. There are already nearly 5,000 such requests.
Nathanson recommends hiring a lawyer if possible to help navigate the process. And "be realistic about your chances of success."
____