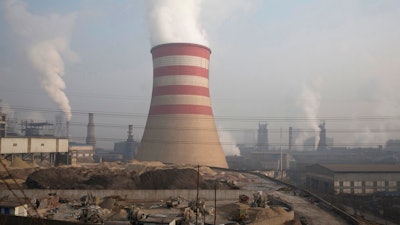 AP Photo/Ng Han Guan, File
WASHINGTON (AP) — The Commerce Department is urging President Donald Trump to impose tariffs or quotas on imported aluminum and steel, which it calls a national security threat.
The recommendations unveiled by Secretary Wilbur Ross Friday are likely to escalate tensions with China and other U.S. trading partners. Stepped-up foreign production of steel and aluminum, especially by China, has driven down prices and hurt American producers.
The Commerce Department is recommending tariffs on all steel and aluminum imports, higher tariffs on imports from specific countries or a quota on imports.
The measures are meant to increase U.S. production to 80 percent of capacity in both industries. U.S. steel plants are running at 73 percent of capacity and aluminum plants at 48 percent.
Trump has to make a decision on steel by April 11 and on aluminum by April 19.
Last year, the president ordered an investigation into whether aluminum and steel imports posed a threat to national defense. On Friday, Ross said: "In each case, the imports threaten to impair our national security." He said, for example, that only one U.S. company now produces a high-quality aluminum alloy needed for military aircraft.
Ross is offering the president three options:
—Impose tariffs of 24 percent on all steel and 7.7 percent on aluminum imports from all countries.
—Impose tariffs of 53 percent on steel imports from 12 countries, including Brazil, China and Russia, and tariffs of 23.6 percent on aluminum imports from China, Hong Kong, Russia, Venezuela and Vietnam. Under this option, the United States would also impose a quota limiting all other countries to the aluminum and steel they exported to the United States last year.
—Impose a quota on steel and aluminum imports from everywhere, limiting each country 63 percent of the steel and 86.7 percent of the aluminum they shipped to the U.S. last year.
On Wall Street, investors reacted by buying the stock of companies that make steel and aluminum. In the early afternoon, shares of United States Steel Corp. were up 10 percent, shares of AK Steel Holding Corp. were up more than 11 percent and shares of Century Aluminum Co. were up nearly 7 percent.
Section 232 of the Trade Expansion Act of 1962 gives the president the power to restrict imports and impose unlimited tariffs if a Commerce Department investigation finds they threaten national security.
Since the United States joined the World Trade Organization in 1995, it has only pursued two such investigations. Both times — in a 1999 case involving oil imports and a 2001 case involving iron ore and steel imports — the Commerce Department refused to recommend sanctions.
Critics fear that other countries will retaliate or use national security as a pretext to impose trade sanctions of their own.
They also say that imposing sanctions on imports will drive up prices and hurt automakers and other companies that use steel or aluminum. In a letter to Trump Monday, a coalition of steel-using companies urged the president "to avoid any decision which would do harm to so many downstream steel manufacturing companies and other steel consumers." It said its members employ 1 million workers in America, compared to 80,000 employed in the steel industry.
China this week appealed to President Trump to settle the steel and aluminum disputes through negotiation. Chinese Foreign Ministry spokesman Geng Shuang said Wednesday that all governments should "spare no effort to avoid negative impacts" on the global economy.
The Trump administration is also considering imposing sanctions against China for forcing American companies to share their intellectual property and stealing trade secrets.