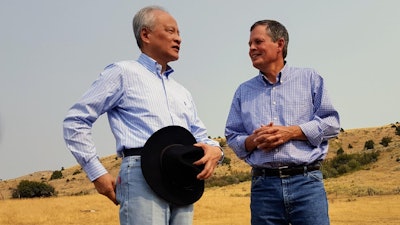 Tom Lutey Gazette Staff/The Billings Gazette via AP
BILLINGS, Mont. (AP) — China's largest online retailer has agreed to buy $200 million worth of Montana beef over the next three years — representing as many as 90,000 head of cattle — and potentially invest $100 million more in a new slaughterhouse in the state under the terms of a trade deal disclosed Wednesday.
The scope of the agreement is relatively small compared to Montana's overall cattle market, equaling less than four percent of the state's cattle sales on an annualized basis.
But Montana livestock industry representatives said it marks a significant break into the sizeable and growing Chinese beef market. They said the inclusion of a new slaughterhouse would make it easier to ensure Montana beef can be tracked back to its origins, a requirement under new Chinese import rules for U.S. beef.
The agreement between retailer JD.com, the Bank of China and the Montana Stockgrowers Association was revealed as President Donald Trump visited Beijing for talks with Chinese President Xi Jinping. JD.com agreed to purchase a minimum $50 million of Montana beef in 2018, $70 million in 2019 and $80 million in 2020, according to a copy of the agreement released Wednesday by Montana U.S. Sen. Steve Daines.
The meat would come from members of Montana Stockgrowers and be purchased at fair market value, the agreement says.
A location for the slaughterhouse hasn't been determined. Stockgrowers spokeswoman Kori Anderson said construction was unlikely to start by next spring as suggested in the agreement.
"That's too quick of a timeline for all the things that need to be in place," she said. "We're really looking for the end game here and the long-term potential that we can build upon. This would definitely open a lot of doors for Montana producers."
But there were concerns the deal's terms would shut out competition for ranchers who don't belong to the Montana Stockgrowers.
R-CALF USA chief executive Bill Bullard said the several hundred Montana members of his livestock group could see little benefit. He also noted cattle typically aren't sold based on market prices but by competitive bidding at auction.
"They're not adding to competition. As a matter of fact, that's suppressing competition," Bullard said.
Montana's last commercial-scale meat packing plant closed decades ago and the vast majority of the state's beef cattle are now shipped out of state for processing, she said. A Canadian company, Friesen Foods, is seeking to build a slaughterhouse on the outskirts of Great Falls that could employ up to 3,000 people.
China is the No. 3 export market for the United States after Canada and Mexico. The communist nation in May announced it was lifting a ban on imported American beef imposed in 2003 over mad cow disease concerns.
The move came as Daines pushed for closer trade ties between Montana's agriculture industry and China. In an April visit to Beijing, the Republican hand-delivered some steaks from a Montana ranch to Chinese Premier Li Keqiang. In September he hosted Chinese Ambassador Cui Tiankai for a tour of a Gallatin County ranch.
The potential of the Chinese market is huge: The nation's 1.37 billion residents are projected to eat roughly 17.6 billion pounds (8 billion kilograms) of beef this year, up more than 40 percent over the past five years, according to the U.S. Department of Agriculture's Foreign Agricultural Service.
However, its import market is currently dominated by Brazil, Uruguay, Australia and other nations with meat that's generally cheaper than North American beef, according to the agency.