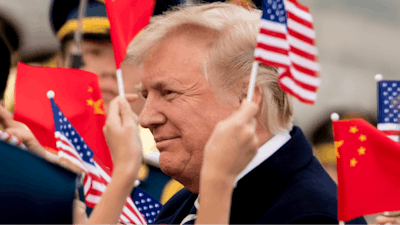 AP Photo/Andrew Harnik
BEIJING (AP) — After a brief truce with China to cooperate on North Korea, President Donald Trump arrived in Beijing on Wednesday amid mounting U.S. trade complaints, with limited prospects for progress on market access, technology policy and other sore points.
The strains between the world's two biggest economies are fueling anxiety among global companies and advocates of free trade that they could retreat into protectionism, dragging down growth.
Washington accuses Beijing of backsliding on market-opening promises, and Trump said last week that the U.S. trade deficit with China — $347 billion last year — is "so bad that it's embarrassing."
"I don't want to embarrass anybody four days before I land in China, but it's horrible," said Trump.
His government has raised import duties on Chinese aluminum foil, stainless steel and plywood, and is investigating whether Beijing improperly pressures foreign companies to hand over technology.
If they discuss trade during the two-day visit, Chinese President Xi Jinping's government is unlikely to offer enough "to appease U.S. negotiators," said John Davies of BMI Research.
That is likely to lead to "more protectionist measures on the part of the U.S.," said Davies.
While Trump is looking to boost sagging public approval ratings, the Chinese leader enters their meeting on a political high.
The ruling Communist Party added Xi's name to its constitution at a twice-a-decade congress last month, giving him status equal to Mao Zedong, founder of the communist government, and Deng Xiaoping, who launched economic reforms in 1979.
At the congress, Xi promised to open the economy wider but affirmed plans to build up state-owned companies that dominate industries including finance, energy and telecoms. That, along with plans for government-led development of electric cars and other technology, makes foreign companies worry that Beijing is squeezing them out of promising fields.
The chairman of the American Chamber of Commerce in China, William Zarit, expressed concern that Trump appears to have done too little to prepare and said some companies worry his focus on trade in goods will mean he does too little about such "structural issues." Zarit said those include limits on access to finance, health care and other industries.
In contrast to "advance work" for previous presidential trips to Beijing, "there really hasn't been much of that for this visit, which makes us a bit concerned that there may not be much discussion on the structural issues," said Zarit, a former American diplomat.
A senior administration official who briefed reporters in Washington denied that Trump hasn't adequately prepared.
"We've analyzed this probably more than most administrations," said the official, who spoke on condition that he not be identified further.
The official said Beijing has shifted to "moving away from market-based principles" and Washington wants movement toward a "market-oriented" system.
That echoes complaints by foreign companies that despite a 2013 pledge by the ruling party to give market forces a "decisive role," restrictions on them in some industries are increasing. That led to a 1.2 percent fall in foreign investment in China in the first seven months of this year, breaking a series of annual double-digit gains.
Business groups have warned that Beijing's efforts to shield its fledgling competitors in electric cars, clean power and other fields are fueling a backlash against globalization.
A possible U.S. response might be "closing down certain industry sectors that are now open to Chinese investment," said Zarit. "I know we do not want to see any kind of a tit-for-tat, which could end up in a trade war."
For its part, Beijing is pressing Washington and the European Union to grant "market economy" status to its state-dominated system. That would make it harder for trading partners to bring anti-dumping and other cases against China.
China says that when it joined the World Trade Organization in 2001, it was promised that status would take effect last December. The United States, Europe and Japan reject that and say Beijing has yet to meet market-opening goals to qualify.
Chinese economists argue their country isn't to blame for U.S. problems. They say global companies benefit from low-cost Chinese labor and a growing consumer market.
The loss of American factory jobs is due not to Chinese exports but to U.S. manufacturers moving to lower-wage countries, said Sun Lijian, an economist at Shanghai's Fudan University.
"In the end, it is U.S. companies that have gained large profits," said Sun.
Trump temporarily set aside trade complaints in April after meeting Xi for the first time in Florida and said he hoped Beijing would help discourage North Korea from pursuing nuclear weapons. They issued a "100-Day Plan" under which Beijing agreed to discuss expanding market access for electronic payments and financial services.
Despite renewed criticism on trade, "the U.S. needs continued Chinese cooperation" over North Korea, economist Rajiv Biswas of IHS Markit said in an email.
That means Trump will feel compelled to negotiate instead of using "blunt bilateral trade measures that could endanger the overall bilateral geopolitical relationship," said Biswas.
Potential options for a possible new package of immediate measures include raising Chinese ownership limits in fields including securities, in which foreign firms can own only 49 percent of a venture, said Zarit.
"If you raised it to 51 percent, I think that would be progress," he said.
China criticized Trump's order in September to investigate whether Beijing violates its free-trade commitments by pressing foreign companies to hand over technology in return for market access. They complained that Trump was jeopardizing the global system by launching the probe under U.S. law instead of the World Trade Organization.
Few American companies have provided evidence for the investigation, possibly due to fear of Chinese retaliation.
The U.S. Commerce Department also is investigating whether Chinese exports including metal tubing, industrial resin and polyester fiber benefit from improper subsidies.
Trade is a smaller share of China's economy than it was a decade ago and the U.S. market is losing importance for its exporters as sales to other developing markets grow. That blunts the potential impact of American tariffs or other sanctions, but the United States still accounts for about one-third of China's trade surplus, and export industries employ millions of workers.
"The U.S. does have leverage to realistically threaten to damage China's economic prospects," said BMI Research's Davies.