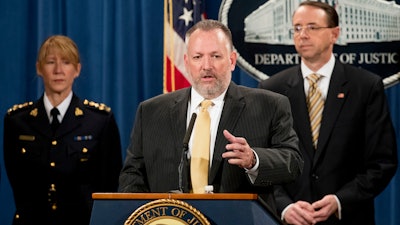 AP Photo/Andrew Harnik
WASHINGTON (AP) — Two Chinese nationals have been indicted on charges they manufactured tons of fentanyl and other powerful narcotics that were then peddled in the United States, killing at least four people and seriously injuring five others, Justice Department officials announced Tuesday.
Authorities said the men controlled one of the most prolific international drug-trafficking organizations, but with no extradition treaty with China, the chances are slim they will ever be brought to the U.S. to face the charges.
The men, who are not in custody, are accused of separately running chemical labs in China that produced the drug and other illegal opioids for sale online to Americans who were often unaware of its potency and susceptible to overdose. At least 21 other people were also indicted on charges they trafficked the drugs across the U.S. and Canada, often through the U.S. mail.
The announcement comes as the Trump administration suffered a setback in its efforts to call attention to the nation's drug crisis. Its nominee to be the nation's drug czar withdrew Tuesday from consideration following reports that he played a key role in weakening the federal government's authority to stop companies from distributing opioids.
It also comes amid growing pressure on President Donald Trump to fulfill his pledge to declare the nation's opioid epidemic a "national emergency," as a commission he's convened on the subject has urged him to do. An initial report from the commission in July noted that the approximate 142 deaths each day from drug overdoses mean the death toll is "equal to September 11th every three weeks."
A sign of White House interest in the issue, presidential counselor Kellyanne Conway quietly attended Tuesday's news conference at the Justice Department.
Robert W. Patterson, acting administrator of the U.S. Drug Enforcement Administration, said the Chinese case represents "one of the most significant drug threats facing the country" because they were able to produce a wide array of synthetic drugs and hide their tracks with web-based sales, international shipments and digital currencies like bitcoin.
The Chinese men indicted were Xiaobang Yan, 40, and Jian Zhang, 38, who worked separately but similarly, authorities said.
Yan, who operated at least two chemical plants in China that were capable of producing tons of fentanyl, would monitor drug legislation and law enforcement actions in the U.S., changing the chemical structure of his drugs to avoid prosecution, Deputy Attorney General Rod Rosenstein said. A 2013 traffic stop in Mississippi unearthed a domestic drug ring linked to Yan.
Zhang, along with five Canadians, two people from Florida and New Jersey man, were indicted in North Dakota for conspiracy to import the drugs from Canada and China. Prosecutors say Zhang ran at least four labs and sold the drug to American customers online. Investigators became aware of him after police officers responded to a deadly overdose in Grand Forks, North Dakota and traced the supply chain, officials said.
Rosenstein, who discussed the problem with Chinese officials last week during a high-level dialogue on law enforcement and cybersecurity, would not say whether the labs have been shut down. He said he was hopeful Chinese authorities would hold the men accountable.
Federal authorities are increasingly warning of the dangers of fentanyl, which can be lethal even in small amounts and is often laced with other dangerous drugs. The Centers for Disease Control and Prevention estimated that more than 20,000 Americans were killed by the drug and its analogues in 2016, and the number is rising, Rosenstein said.