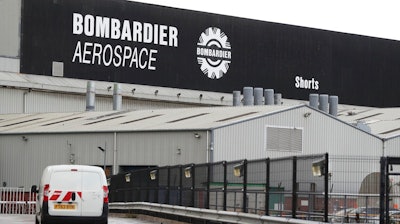 AP file
WASHINGTON (AP) — The U.S. Commerce Department said Friday that it is imposing more duties on Canada's Bombardier C series aircraft, charging that the Canadian company is selling the planes in America below cost.
The 80 percent duty comes on top of duties of nearly 220 percent Commerce announced last month. The case is a victory for U.S. rival Boeing Co.
The U.S. says Montreal-based Bombardier used unfair government subsidies to sell jets at artificially low prices in the United States.
"The United States is committed to free, fair and reciprocal trade with Canada, but this is not our idea of a properly functioning trading relationship," Commerce Secretary Wilbur Ross said.
Specifically, Boeing charges that Bombardier last year sold Delta Air Lines 75 CS100 aircraft for less than it cost to build them. But Delta has said Boeing did not even make the 100-seat jets it needed.
"These anti-dumping duties on Bombardier's C Series aircraft unfairly target Canada's highly innovative aerospace sector and its more than 200,000 workers_and put at risk the almost 23,000 U.S. jobs that depend on Bombardier and its suppliers," said Chrystia Freeland, Canada's foreign affairs minister. "Boeing is manipulating the U.S. trade remedy system to prevent Bombardier's new aircraft, the C Series, from entering the U.S. market."
Bombardier charged that the decision "represents an egregious overreach and misapplication of the U.S. trade laws in an apparent attempt to block the C Series aircraft from entering the U.S. market, irrespective of the negative impacts to the U.S. aerospace industry, U.S. jobs, U.S. airlines, and the U.S. flying public."
Bombardier can appeal any sanctions to a U.S. court or to a dispute-resolution panel created under the North American Free Trade Agreement. The Canadian government can also take the case to the World Trade Organization in Geneva.