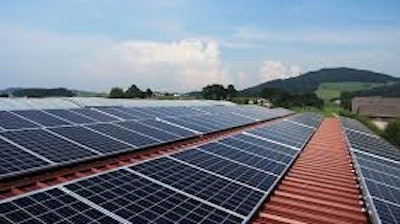 Pixabay
HILLSBORO, Ore.--(BUSINESS WIRE)--Sep 18, 2017--Trade-case co-petitioners SolarWorld Americas Inc. and Suniva Inc. today announced that the Alliance for American Manufacturing (AAM), a labor-business coalition, has asked the U.S. International Trade Commission (ITC) to determine that imports have seriously injured the U.S. solar cell and panel manufacturing industry and then craft a sufficiently robust trade remedy recommendation.
The AAM is a "nonprofit, nonpartisan partnership formed in 2007 by some of America's leading manufacturers and the United Steelworkers," according to its website. "Our mission is to strengthen American manufacturing and create new private-sector jobs through smart public policies. We believe that an innovative and growing manufacturing base is vital to America's economic and national security, as well as to providing good jobs for future generations."
In a letter to the ITC, the AAM says, "As a domestic labor-business partnership, our members and advocates are keenly aware of the impact of exceedingly high levels of imports on domestic production and jobs. In the specific case of solar cells and panels, it would be devastating to lose a productive domestic manufacturing capacity just as solar installations are scaling up in the United States."
The AAM says it understands from public documents, including China's 12 th five-year plan, that China's intention to build solar power market share has led the country to export "large quantities of solar cells and panels." The strategy, the AAM says, has been enhanced by cyber-attacks on the U.S. solar industry. In May 2014, the U.S. Department of Justice indicted members of the People's Liberation Army for alleged hacking and cyber-theft of SolarWorld, among others.
"The growing U.S. solar installation market would be well served by vibrant domestic competition rather than an overreliance on imports from China," the AAM letter says. "Allowing Chinese imports to destroy the remaining market share for domestic solar cells and panel manufacturing would ultimately disrupt the possibility of a truly competitive market and make it more subject to the vicious cycles of overcapacity and overconsumption that plague China's government-driven economy."
"A rules-based trading system is only as good as its rules and willingness to enact remedies where warranted," the letter says.
Juergen Stein, CEO and president of SolarWorld Americas, thanked the AAM for the letter.
"We greatly appreciate the strong support of the Alliance for American Manufacturing on this critically important case," Stein said. "It is time for us to come together as an industry to rebuild America's solar manufacturing base, to ensure that it remains a leader for future generations."
Nearly 30 U.S. solar-panel producers ceased manufacturing operations from 2012 to 2016, the period of investigation in the so-called Section 201 case. During this period, global imports increased nearly five-fold. This surge was led by China, whose imports rose by more than 700 percent, according to ITC data.
Four commissioners of the ITC will vote Sept. 22 whether imports have caused, or threatened to cause, serious injury to the domestic industry. If at least two vote affirmatively, the ITC will proceed to a remedy phase.