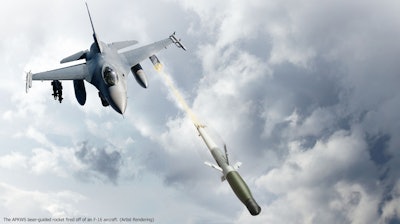 BAE Systems
The U.S. Navy has awarded BAE Systems a $180.5 million contract to continue producing Advanced Precision Kill Weapon System (APKWSTM) laser-guided rockets to meet the growing U.S. and international demand for the systems.
APKWS rockets are seeing increasing use in theater because they deliver cost-effective precision strikes with reduced potential for collateral damage.
The latest order, which is funded under the recently announced indefinite delivery/indefinite quantity contract, will help BAE Systems to meet increased demand.
APKWS laser-guided rockets allow militaries to leverage existing munitions and weapons systems investments with minimal effort and training.
The APKWS mid-body guidance kit transforms standard unguided Hydra 70 (2.75-inch) rockets into highly accurate precision munitions by easily screwing into place between the warhead and the motor.
The accuracy makes it able to address various missions, and its modular design enables streamlined deployment on fixed- and rotary-wing platforms.
In October 2016, the U.S. Navy gave BAE a contract worth as much as $600 million for APKWS laser-guided rockets.
To meet growing demand, BAE Systems invested in a new facility in New Hampshire that is optimized for precision guidance solutions and designed to meet a significant increase in production.
The company believed that it could ramp up production to 20,000 APKWS guidance units per year with potential for additional growth.