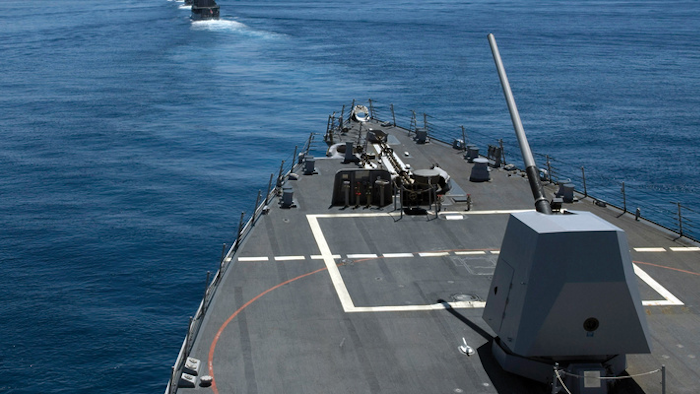 BAE Systems
BAE Systems received a $245 million contract from the UK Ministry of Defense (MOD) to provide the gun system, known as the Maritime Indirect Fires System (MIFS), for the Type 26 Global Combat Ship. 
Under the contract, BAE will manufacture three MIFS Integrated Gunnery Systems (IGS) and one trainer system for the UK Royal Navy. The MIFS IGS includes the 5-inch, 62-caliber Mk 45 Mod 4 Naval Gun System, along with an automated ammunition handling system, gun fire control system, and qualified ammunition.
The contract includes an option for five additional systems for the remainder of the UK Royal Navy's Type 26 fleet.
The Mk 45 is in service with the U.S. Navy and 10 other allied nations.
More than 240 Mk 45 guns have been delivered into service globally.
Work on the contract for the UK Type 26 ships will be performed at BAE Systems' facilities at Louisville, Kentucky, and Minneapolis, Minnesota, in the US and at Barrow-in-Furness, Frimley, and Glascoed in the UK, with deliveries expected by 2020.
The UK Government committed to buy eight of the advanced Type 26 Global Combat Ships in its 2015 Strategic Defense and Security Review, which will in time replace the anti-submarine warfare Type 23 frigates.
Type 26 will be globally deployable and capable of undertaking a wide range of roles from high intensity warfare to humanitarian assistance, either operating independently or as part of a task group.
The ship has been designed with an acoustically quiet hull and there is flexibility in the design to allow Type 26 to be upgraded as new technology develops to ensure that it remains relevant to future requirements.