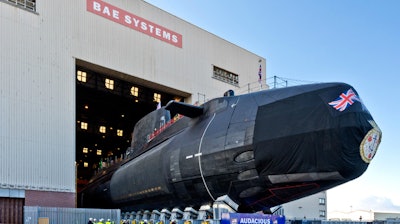 BAE Systems
Today, BAE Systems launched Audacious, the fourth of seven Astute class attack submarines being built for the UK's Royal Navy. The launch happened at the company's site in Barrow-in-Furness, Cumbria, UK.
The 97-meter long, 7,400 metric ton nuclear powered submarine emerged from the site's Devonshire Dock Hall yesterday. Today, it was lowered into the dock water for the first time to begin the next phase of its test and commissioning program ahead of leaving Barrow for sea trials next year.
Armed with Spearfish torpedoes and Tomahawk land attack missiles, the Astute class submarines are the most highly-capable submarines ever built for the Royal Navy.
They can strike at targets up to 1,000 km from the coast with pin-point accuracy, are equipped with a world-leading sonar capability and powered by a nuclear reactor.
The first three submarines in the class, HMS Astute, HMS Ambush and HMS Artful, are now in service with the final three Astute class submarines are at various stages of construction at the Barrow site.
BAE Systems is the prime contractor in the Astute prograe and the UK's only designer and builder of nuclear powered submarines - one of the world's most complex engineering challenges.
The company is also the lead for the Dreadnought program, the Royal Navy's next generation of nuclear deterrent submarines. Construction of the first of four submarines, named Dreadnought, began last year.
BAE's submarines business employs approximately 8,500 people and spends more than £300M ($389M USD) per year with more than 1,000 direct suppliers, 85 percent of which are based in the UK.