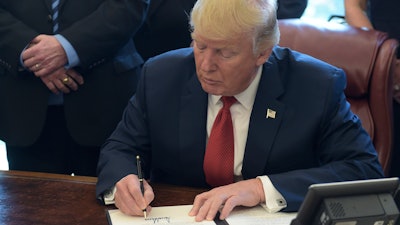 AP Photo/Susan Walsh
WASHINGTON (AP) — President Donald Trump directed his administration Thursday to expedite a just-launched investigation into whether steel imports are jeopardizing U.S. national security, saying, "This is not an area where we can afford to become dependent on other countries."
Executives from U.S. steelmakers, who support the review, stood behind Trump as he signed a memo directing Commerce Secretary Wilbur Ross to return recommendations in the "very, very near" future. Trump said that could be as soon as 30 to 50 days.
Trump promised as a candidate to revitalize the American steel industry, the decline of which has been especially hard on states like Pennsylvania that were crucial to his victory.
The president said maintaining steel production is critical to U.S. security interests because it is needed to build airplanes, ships and other machinery, along with roads, bridges and other infrastructure. The American steel industry argues that if the U.S. is dependent on imported steel, it could be vulnerable if relations break down with nations that export it.
U.S. prominence in the industry has been slipping for decades. American-made steel once accounted for roughly 20 percent of global production, but had slipped to less than 5 percent by 2015, according to the Belgium-based World Steel Association. China made up less than 3 percent of U.S. steel imports.
Trump couched the investigation as part of action he took earlier in the week to enforce existing "Buy American" laws.
"From now on, we're going to stand up for American jobs, workers and their security, and for American steel companies and companies in general," Trump said. "Today's action is the next vital step toward making America strong and prosperous once again."
In 2001, the Commerce Department found no evidence of a threat after it examined potential national security risks from importing semi-finished steel.
What has changed since 2001 is that China now accounts for half of steel production, such that excess output by Chinese factories —regardless of imports to the United States— can dampen prices for U.S. steelmakers.
Asked whether the move would affect his dealings with China over North Korea, Trump said: "This has nothing to do with China. This has to do with worldwide, what's happening. The dumping problem is a worldwide problem."
A 1962 trade law that gives the president authority to restrict imports and impose tariffs if they are determined to harming U.S. security interests outlines 270 days for such investigations.