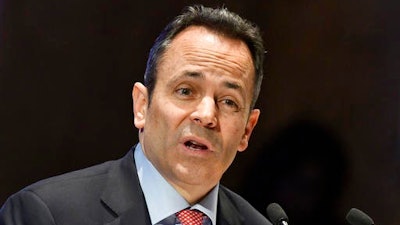 AP Photo/Timothy D. Easley, File
FRANKFORT, Ky. (AP) — Crystal Snyder was trying to figure out life as a single mom when she lost her job at a West Virginia T-shirt factory.
The 37-year-old had no college degree, mostly because she married at 16, divorced at 19 and had two children. Unsure what to do, Snyder heard about a program through the Coalfield Development Corp. that would hire her and pay for her to get an associate degree. Now she works full time for one of the nonprofit's agriculture offshoots.
"I'm learning how to be a farmer. I'm growing food, I'm going to school," she said. "It has helped me in ways I can't even understand yet."
Coalfield Development Corp. is a nonprofit funded by the Appalachian Regional Commission. The ARC is a 52-year-old federal agency that seeks to create jobs in 420 counties across 13 states, including the West Virginia and Kentucky coalfields.
It's also targeted for elimination by President Donald Trump.
Trump's budget proposal has alarmed much of the region, including longtime Republican Congressman Hal Rogers, who represents the mountainous eastern Kentucky coal region where Trump won every county, a first for a Republican presidential candidate.
"I am disappointed that many of the reductions and eliminations proposed in the President's skinny budget are draconian, careless and counterproductive," Rogers said.
The ARC began its work in 1965 as part of former Democratic President Lyndon Johnson's famous "war on poverty." In the past two years, the agency has spent $175.7 million on 662 projects that is says has created or retained more than 23,670 jobs.
That investment has paid off: In Kentucky, the commission has awarded $707,000 to the Eastern Kentucky Concentrated Employment Program, which used the money to train 670 people who now have full time jobs earning a combined $13.6 million in wages.
Some of those wages were earned by Heather Smith, a 41-year-old in Annvile, Kentucky, who works from home for U-Haul.
"It has brought a lot of jobs to our region," she said. "I really am for our president and I really like him. But that part I wish they could work on."
In Alabama, where Trump won with 62 percent of the vote, the commission awarded $5 million last year to projects in 37 rural counties for jobs, technology upgrades and school programs and materials.
"We are concerned about the ability to help rural Alabama," said Jim Byard, head of the Alabama Department of Economic and Community Affairs, the state agency that helps administer the grants.
Kentucky has been a focal point for federal anti-poverty programs for decades, resulting in billions of dollars of public investment. Last year, the ARC received $146 million, its largest federal appropriation in more than three decades.
Yet much of the region is still crippled by poverty, and a new generation of Republicans frustrated with government programs now run several states. That includes Kentucky Gov. Matt Bevin. He spoke this week at an eastern Kentucky event meant to celebrate a $2.75 million ARC investment that resulted in 35 jobs in Paintsville.
"The war on poverty. How's that working out? We've spent a lot of money. Here's what the answer isn't: The answer isn't another government program," Bevin said.
It's unclear if Bevin supports the Trump budget. His spokeswoman did not respond to a request for comment.
Senate Majority Leader Mitch McConnell said he's pleased with Trump's proposal to spend more money on national security and veterans, but he vowed to "work with the delegation to protect essential Kentucky priorities in the final budget."
In West Virginia, construction work funded by the ARC is the only job 21-year-old Jacob Dyer has had since high school. He's a few classes away from his associate degree, and hopes to stay in the program for another two years to get another degree.
He hopes Trump will reconsider.
"I think if he knew how this program helps others and what it's really done, what it supports, I think that would change his mind, possibly," Dyer said.