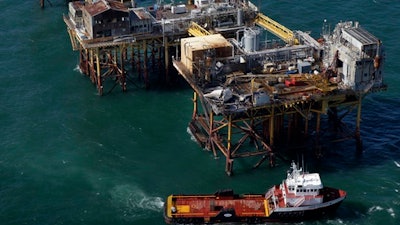 AP Photo/Gerald Herbert, File
NEW ORLEANS (AP) — An oil industry services company will pay $9.5 million in penalties for Gulf of Mexico safety violations and for pollution from a 2012 offshore platform fire that killed three workers.
The penalties against Houston-based Wood Group PSN were announced Thursday by the U.S. Justice Department in Washington and U.S. attorneys in New Orleans and Lafayette, Louisiana, where civil and criminal cases have been playing out. The penalties followed plea agreements.
Wood Group will pay $7 million for falsely reporting that safety inspections were performed on Gulf of Mexico facilities over several years. Another $1.8 million in penalties are for discharging oil into the gulf in the November 2012 explosion that killed three workers on a platform owned by Black Elk Energy Offshore Operations LLC.
Wood Group also will pay $700,000 for community service projects.
"We deeply regret these incidents occurred and we cooperated fully with the government and relevant regulatory bodies throughout both investigations," Wood Group said in an emailed statement.
The November 2012 explosion killed three workers on a platform owned by Black Elk Energy Offshore Operations LLC.
A 2013 report by federal regulators identified a string of safety lapses that led to the blast, which killed Ellroy Corporal, Jerome Malagapo and Avelino Tajonera.
Black Elk Energy's platform was about 17 miles (27 kilometers) from Grand Isle, Louisiana, in about 52 feet (15 meters) of water. It had been "shut in" and wasn't producing oil at the time of the explosion. Workers were on the platform preparing to resume production. On the morning of Nov. 16, 2012, a worker ignited oil vapors while welding pipe, triggering a chain reaction that caused oil tanks to explode.
In 2015, a grand jury indicted Black Elk, Wood Group, Grand Isle Shipyards and some of the people who worked on the platform on a variety of charges. A judge threw out some of the most serious charges last April but prosecutors' appeals of that decision are pending.
Black Elk and Grand Isle Shipyards remain charged with manslaughter. Black Elk also faces charges involving regulatory violations of the Outer Continental Shelf Lands Act.