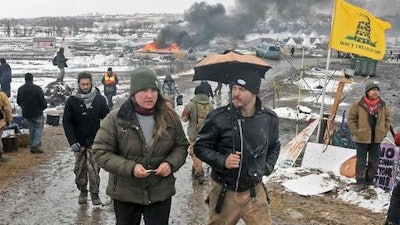 Tom Stromme/The Bismarck Tribune via AP
CANNON BALL, N.D. (AP) — A few dozen people still occupying a sprawling encampment on federal land to protest construction of the Dakota Access oil pipeline will have another chance to leave peacefully Thursday, North Dakota's governor said, after public officials pleaded with the self-named "water protectors" to leave so the site can be cleared.
Most of the protesters marched out of the area ahead of the 2 p.m. Wednesday deadline imposed by the Army Corps of Engineers. Authorities arrested 10 people who defied the order in a final show of dissent. North Dakota Gov. Doug Burgum said law enforcement officers remained outside the camp.
"They will have every opportunity again to leave tomorrow without arrest," Burgum said Wednesday evening, referring to the estimated 25 to 50 remaining protesters.
Burgum said law enforcement will decide Thursday morning what to do, noting that cleanup of the site was scheduled to resume at 9 a.m. Corps Col. John Henderson said the taxpayer-funded cleanup could take about a month and cost as much as $1.2 million. The Corps had warned that the protesters need to leave the site before the spring melt floods the land.
The camp — known as Oceti Sakowin — near the Standing Rock Indian Reservation has been home since August to sometimes thousands of demonstrators trying to thwart construction of the final section of the $3.8 billion pipeline. The Standing Rock Sioux and Cheyenne River Sioux, whose reservation is downstream, say Dakota Access threatens their drinking water and cultural sites. Pipeline developer Energy Transfer Partners disputes that.
When complete, the project will carry oil through the Dakotas and Iowa to a shipping point in Illinois.
Early Wednesday, protesters burned down some wooden structures on site in what they described as a leaving ceremony. Authorities said about 20 fires were set and a 7-year-old boy and a 17-year-old girl were taken to a Bismarck hospital to be treated for burns.
Shortly before the deadline passed, about 150 people marched arm-in-arm out of the soggy camp, singing and playing drums as they walked down a highway. One man carried an American flag hung upside-down. It was not clear where they were headed. New camps have appeared on private land, including one the Cheyenne River Sioux set up about a mile from the main camp.
Police said that as many as 75 people outside the camp taunted officers. Police then took 10 people into custody for obstructing a government function, authorities said.
Authorities sent buses to take protesters to Bismarck, where they were offered fresh clothing, bus fare home, and food and hotel vouchers. Officials said at least 70 protesters asked about transportation.
Nathan Phillips, a member of the Omaha Tribe in Nebraska who has been in North Dakota since Thanksgiving, said he was moving to a new camp in the area because "there's still work to be done."
Protester Matthew Bishop, from Ketchikan, Alaska, said he too was headed to a camp on private land.
"We're going to regroup and see what we can do," Bishop said.