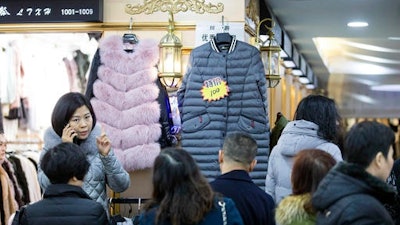 Chinatopix via AP
BEIJING (AP) — China's exports surged in January, rebounding from the previous month's contraction, and imports also rose in a positive sign for the world's second-largest economy.
Exports climbed 7.9 percent from a year earlier to $18.3 billion, recovering from December's 6.1 percent decline, customs data showed Friday. Imports gained 16.7 percent to $13.1 billion, accelerating from the previous month's 3.1 percent expansion.
China's politically sensitive trade surplus with the United States contracted by just over 1 percent from a year earlier to $21.4 billion. U.S. President Donald Trump has promised to take a tougher line toward Beijing on trade, raising fears of a slump in commerce between the two countries, which are among each other's biggest trading partners.
"Headline trade data was strong in January," said Louis Kuijs of Oxford Economics in a report. "Import momentum remained solid, following the impressive sequential run up last year, indicating continued steady domestic demand momentum and higher commodity prices."
China's trade figures can be distorted by the Lunar New Year holiday, which falls at different times in January and February each year. Factories rush to fill orders before closing for up to two weeks and then restock with a flood of imported raw materials. This year's holiday began Jan. 27, so some of that shutdown was in January, while last year's break didn't begin until Feb. 7.
China's global trade surplus shrank by 19 percent from a year ago to $51.3 billion. Its surplus with the 28-nation European Union, its biggest trading partner, declined 2 percent to $14.1 billion.
Weak demand for Chinese exports adds to pressure on communist leaders who want to avoid politically volatile job losses as they try to nurture self-sustaining economic growth based on domestic consumption instead of trade and investment.
Last year, exports shrank by 7.7 percent. Exports have contracted in each of the past six months except November, when they rose by just 0.1 percent over a year earlier.
Chinese economic growth cooled last year to 6.7 percent, its weakest rate since 1990. Even that weak performance was shored up by heavy government spending and boom in real estate sales supported by a surge in bank lending.
Private sector forecasters and the International Monetary Fund expect growth to cool further this year. Chinese leaders have warned any recovery will be "L-shaped," meaning that while the decline might end, growth won't rebound to the previous decade's heady rates.
Surveys of manufacturers showed activity expanded in January but analysts warned that might not last as Chinese regulators tighten lending controls to cool what they deem a dangerously fast rise in debt and surging housing costs.
"We remain cautious on the outlook for both global demand and Chinese domestic demand later in the year," said Kuijs.