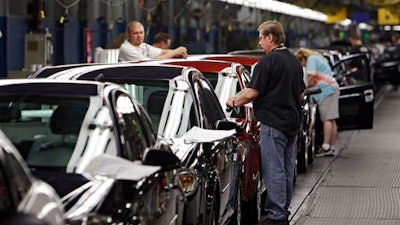 AP file
WASHINGTON (AP) — President Donald Trump is threatening to rip up trade agreements and slap taxes on Chinese and Mexican goods, raising the risk of a trade war.
Which American communities would have the most to lose? The Brookings Institution's Metropolitan Policy Program ranked U.S. metro areas by their exports as a percentage of their local gross domestic product — the broadest measure of economic output.
Columbus, Indiana, home of engine maker Cummins Inc., ranks No. 1.
The numbers don't show which communities are most exposed to trade with Mexico or China, but do suggest which local economies depend most on foreign markets. Here are the top 10:
Metro Area Exports as percentage of GDP
Columbus, Indiana 50.6 percent
Beaumont-Port Arthur, Texas 40.0 percent
Lake Charles, Louisiana 36.9 percent
Elkhart-Goshen, Indiana 34.5 percent
Kokomo, Indiana 34.1 percent
Lafayette-West Lafayette, Indiana 30.9 percent
Decatur, Alabama 29.1 percent
Fond du Lac, Wisconsin 25.1 percent
Baton Rouge, Louisiana 24.3 percent
Spartanburg, South Carolina 24.1 percent
Source: Brookings analysis of data from the Commerce Department; Labor Department; Moody's Analytics; Internal Revenue Service; Energy Information Agency; NAFSA: Association of International Educators; Sabre