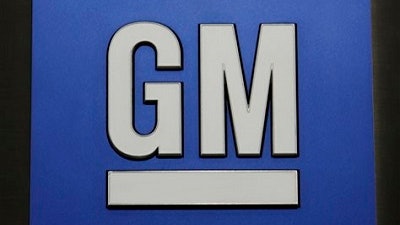 TORONTO (AP) — General Motors Canada is cutting 625 jobs at its assembly plant near London, Ontario, and moving those jobs to Mexico, where labor is cheaper, GM Canada's union spokesman said Friday.
Unifor Local 88 spokesman Mike Van Boekel said the layoffs will take effect in July at the CAMI Assembly plant in Ingersoll, which currently employs 2,800 Unifor workers.
Unifor's national president, Jerry Dias, said the decision "reeks of corporate greed" and is a clear sign that the North American Free Trade Agreement must be renegotiated. U.S. President Trump has told Mexico and Canada he wants to renegotiate NAFTA, or perhaps even scrap it.
"The CAMI announcement is a shining example of everything wrong with NAFTA, it must be re-negotiated," Dias said in a statement Friday. "It is imperative that we have trade rules that help ensure good jobs in Canada."
GM Canada said it gave Unifor advance notification of how product changeovers would affect workers at three Ontario plants.
The Ingersoll plant builds the Chevrolet Equinox and the GMC Terrain. The company recently announced it was shifting production of the GMC Terrain to Mexico. GM said the cuts Friday related to the changeover of production from older model Equinoxes to the next-generation Equinox.
Trump has called NAFTA the worst trade deal the U.S. has ever signed. He met with the chief executives of the Big Three U.S. automakers earlier this week, urging them to build more U.S. plants and invest less in Mexico.
His protectionist comments have caused concerns about whether Canada's automotive industry could take a hit, particularly if a border tax is implemented on Canadian goods.
But several industry insiders have argued that Canada is most likely not the target that Trump has set his sights on.
"Well the facts are, jobs are not going from the United States to Canada," Dias said earlier this week. "Jobs have been going from Canada to the southern United States and to Mexico."
There are 141,000 people employed in Canada's automotive sector, according to the Conference Board of Canada.
That's roughly 60,000 fewer people than were employed in the sector a decade ago, as some roles have been automated and others have been moved to Mexico.
If Trump is able to bring more automotive jobs back to Detroit, that would create more opportunities for Canadian auto parts suppliers says Flavio Volpe, president of the Automotive Parts Manufacturers' Association.
Brad Duguid, Ontario's economic development minister, said there are both risks and opportunities on the table for Ontario with regards to a renegotiation of NAFTA.
"The fact is, we know the reality, and that's that President Trump is planning to reopen these discussions and I think our prime minister is wise to be proactive in coming to the table and identifying what our potential interests may be."