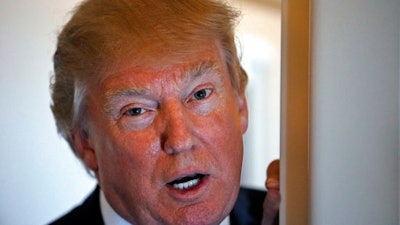 AP file
WEST PALM BEACH, Fla. (AP) — President Donald Trump plans to nominate a vocal critic of the U.S. Export-Import Bank to serve as its president.
The White House announced late Friday that Trump plans to nominate Scott Garrett, a former Republican congressman from New Jersey, to serve as president of the credit agency, which helps overseas buyers get financing to purchase U.S. exports.
Trump will also nominate Spencer T. Bachus III of Alabama, another former House member, to serve as a member of the bank's board of directors.
Garrett voted against renewing the bank's charter while he was in Congress, denouncing it as "corporate welfare."
"I opposed the House's vote to reauthorize the corporate welfare program known as the Ex-Im Bank. #CronyCapitalism," he tweeted in 2015.
It's a view he used to share with Trump — at least until this week.
During his campaign, Trump criticized the credit agency as an unnecessary giveaway to politicians and certain companies.
"I don't like it because I don't think it's necessary," he told Bloomberg, describing it as "sort of a featherbedding for politicians" and "a few companies."
"And these are companies that can do very well without it. So I don't like it. I think it's a lot of excess baggage," he added.
But this week Trump announced he'd changed his mind, telling The Wall Street Journal in an interview that he now supports it.
"It turns out that, first of all lots of small companies will really be helped, the vendor companies, but also maybe more importantly, other countries give it," he said. "And when other countries give it, we lose a tremendous amount of business."
"So instinctively," he added, "you would say it's a ridiculous thing but actually it's a very good thing and it actually makes money. You know, it actually could make a lot of money."
The bank has been hobbled in recent years without enough board members to produce a quorum, blocking it from approving transactions exceeding $10 million.
Much of the bank's financing benefits large corporation such as The Boeing Company, General Electric and Caterpillar Inc.
Many moderate, business-minded Republican groups like the U.S. Chamber of Commerce support the bank. But vocal opponents, including many tea party Republicans and outside groups like the Heritage Foundation, have said it practices crony capitalism, awarding most of its financing to well-connected corporations.
Trump's reversal on the subject is just one of several he's made in recent days as he approaches his 100th day in office.