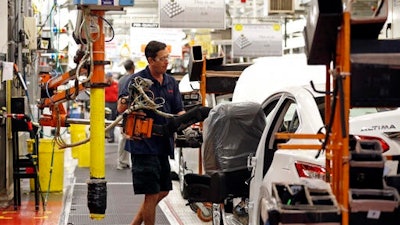 AP Photo/Rogelio V. Solis
WASHINGTON (AP) — U.S. businesses ramped up their investment in industrial machinery, semiconductors and other big-ticket items last month, boosting demand for factory goods.
A measure that tracks business spending plans climbed 0.8 percent in December, after jumping 1.5 percent the previous month, the Commerce Department said Friday.
Orders for all durable goods, which are meant to last longer than three years, slipped 0.4 percent, mostly because of a sharp fall in demand for defense aircraft, a volatile category. Excluding transportation-related goods, orders rose 0.5 percent, the sixth straight increase.
The report adds to recent evidence that manufacturers are climbing out of a roughly two-year rut. A strong U.S. dollar and falling oil and gas prices had sliced demand for factory products, as drillers ordered less steel pipe and other equipment. Yet demand has risen since oil prices have stabilized.
Orders for industrial machinery rose 0.4 percent last month, while demand for computers, semiconductors and electronic goods jumped 2.4 percent. Orders for autos climbed 2 percent, a sign automakers expect additional sales growth.
Other measures of the U.S. manufacturing sector have also improved. A private survey earlier this month found that manufacturing activity in December rose to its highest level in two years, led higher by strong increases in new orders and production.
And manufacturing output rose 0.2 percent in December, according to a report from the Federal Reserve. Auto sales reached a record level in 2016, and automakers continued cranking out vehicles through the end of the year.
Still, manufacturing has not yet fully rebounded. Manufacturing output rose just 0.2 percent in all of 2016, according to the Fed.
And business investment in long-lasting goods fell 3.4 percent last year, despite the gains of the last three months.