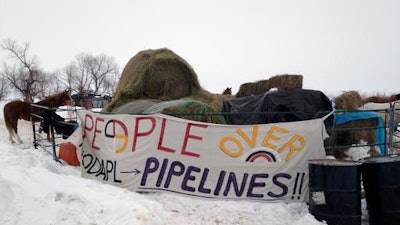 AP Photo/James MacPherson
CANNON BALL, N.D. (AP) — Most of the demonstrators who gathered on the North Dakota plains to oppose the Dakota Access oil pipeline declared victory and departed their snowy protest camp last month after the Army announced it would halt the project.
Now that President Donald Trump's administration is pushing to complete the pipeline, the few hundred protesters still living on the wind-whipped prairie must decide what to do — accept the likely defeat and leave, or stay and keep fighting.
Some vow to remain, but Trump's action seems unlikely to spark a major rejuvenation of the depleted camp of people who dubbed themselves "water protectors."
Dan Hein, a 43-year-old Ohio man who has been living at the camp since September, was packing Tuesday to go home.
"I knew this was coming," he said.
But Gena Neal, 43, who came from Oklahoma, said she was staying, even if protests remain subdued.
"We are proving action by just being here," she said Wednesday as snow swirled around a dozen people, many wearing donated ice grippers on their shoes.
Trump on Tuesday signed an executive action ordering the Army Corps of Engineers to quickly reconsider its Dec. 4 decision to stop the construction to allow time for more environmental study. Before the project can be finished, builders need permission to lay pipe under Lake Oahe, a Missouri River reservoir from which an American Indian tribe draws its drinking water.
The tribe at the center of the protests, the Standing Rock Sioux, says the pipeline threatens its water and cultural sites. Developer Energy Transfer Partners disputes that.
The Oahe segment is the last major piece of the four-state pipeline designed to move North Dakota oil to a shipping point in Illinois. It was not clear when the Corps will act on Trump's memorandum.
Local law enforcement agencies geared up for a possible resumption of protests after Trump's action, but no major incidents materialized, the Morton County Sheriff's Office said Wednesday.
There have been more than 625 arrests in the region since mid-August. Clashes and arrests tailed off dramatically in recent weeks after the tribal council told the protest camp to disband because of the Dec. 4 decision, the harsh winter weather and the need to get the area cleaned up before spring flooding.
At the camp's peak, several thousand people were packed into a half-mile square, living in teepees, tents, buses, motor homes and semi-permanent wooden structures. One occupant set up a portable radio station. Others established a school for children in a large tent.
Today, fewer than 300 people remain on the federal land along the confluence of the Cannon Ball and Missouri rivers.
The school and radio station are gone. The site is now dotted with abandoned tents, and many of the teepee tarps have been taken down, leaving only bare frames. The ground is covered with ice and several feet of snow that have buried abandoned vehicles and piled up against buildings that were left unfinished.
Even with its diminished population, the camp remains under constant surveillance from law enforcement officers and National Guard soldiers perched on nearby bluffs and in aircraft making regular flyovers.
Hein still believes in the cause but is resigned to leaving.
"People have dedicated months of their lives to this and now they're telling us to leave," he said. "If they don't want your help, what are you going to do?"
Not everyone feels that way. Cindy Lou, a 55-year-old New Jersey woman who has been at the camp since October, said she and her husband will stay or "all of this would be for naught."
The tribe is planning to focus on a court battle in distant Washington, D.C., against any reversal of the Dec. 4 decision.
Within hours of Trump's announcement, two leading pipeline opponents issued pleas on social media to maintain a presence in the area and for other supporters to come. But in interviews both LaDonna Brave Bull Allard and Chase Iron Eyes said they were not advocating a return to the large-scale protests of 2016.
Allard, who operates a separate camp on her own land, said she plans to convert it into a summer camp to teach people how to respect the land, culture, history and traditions. The anti-pipeline effort "will continue to be a world movement," she said.
Iron Eyes said he advocates maintaining a presence in the area, but that anyone who comes should not expect a large camp that can provide for them.
"We're asking for people to be self-sufficient," he said. "We don't expect the numbers — 15,000, 12,000 or whatever it was — it's just not sustainable."
Rather, he said, "we have to win the war of public relations. We expect to win in the court of public opinion."
Trump's action could re-ignite protests, but "to what degree, we don't know," said Dallas Goldtooth, with the Indigenous Environmental Network, which had been one of the main camp organizers before heeding the tribe's call to leave last month. That group and others have since called on pipeline opponents to spread out around the country.
"Standing Rock has ignited a fire in all of us," Goldtooth said. "We hope to see those fires continue to burn."
Helen Red Feather, 60, of Pine Ridge, South Dakota, said she plans to stay and continue fighting the pipeline that opponents have dubbed "the black snake."
"I came here to kill the snake," she said. "And I'm staying here to kill the snake."