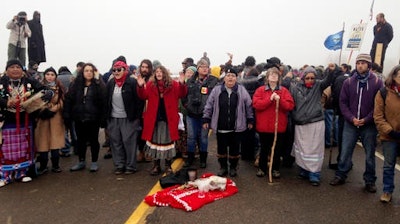 AP file
BISMARCK, N.D. (AP) — North Dakota leaders will borrow an additional $7 million to cover the cost of law enforcement related to the ongoing protest of the four-state Dakota Access oil pipeline.
The state's Emergency Commission voted Wednesday to borrow the funds from the state-owned Bank of North Dakota. The commission is headed by Gov. Jack Dalrymple.
The group earlier approved $10 million in emergency spending.
Officials say the new loan should cover the state's cost of policing protests over the $3.8 billion pipeline through December.
Dalrymple says requests for reimbursement from the federal government have been unsuccessful.
Pipeline developer Energy Transfer Partners says it made an offer to reimburse the state for policing costs. Dalrymple says he is not aware of an offer and it's unclear whether the state could legally accept it.