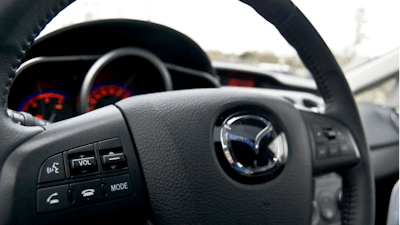 NEW YORK (AP) — Mazda Motor Corp. is recalling more than 190,000 CX-7 sport utility vehicles because of a potentially dangerous steering control defect.
The recall involves vehicles made from February 14, 2006 through May 9, 2012. Last year, the company recalled more than 190,000 CX-9 SUVs made between 2007 and 2014 because of concerns over steering control loss.
In the latest recall, the National Highway Traffic Safety Administration said that water may enter the front suspension ball joint fittings. Water from salted roadways in the winter months can result in corrosion loosening ball joint fittings, which could eventually result in a loss of steering control.
Owners will be notified and instructed to take their vehicles to a Mazda dealer for repairs.